November 2016 saw the culmination of possibly the most exciting Digital Preservation Awards EVER! Well, it was for me anyway. Here's why: we attracted more nominations than ever before – more than 30 from around the world and many from outside the Coalition too, we were able to offer more categories than ever before including a long overdue celebration of the work of our colleagues in commercial organisations and industry, the event was live streamed enabling another 300 people to watch on the night and after the event, #DPA2016 trended in the top 6 UK hashtags that evening (my personal highlight) AND everyone had a great time!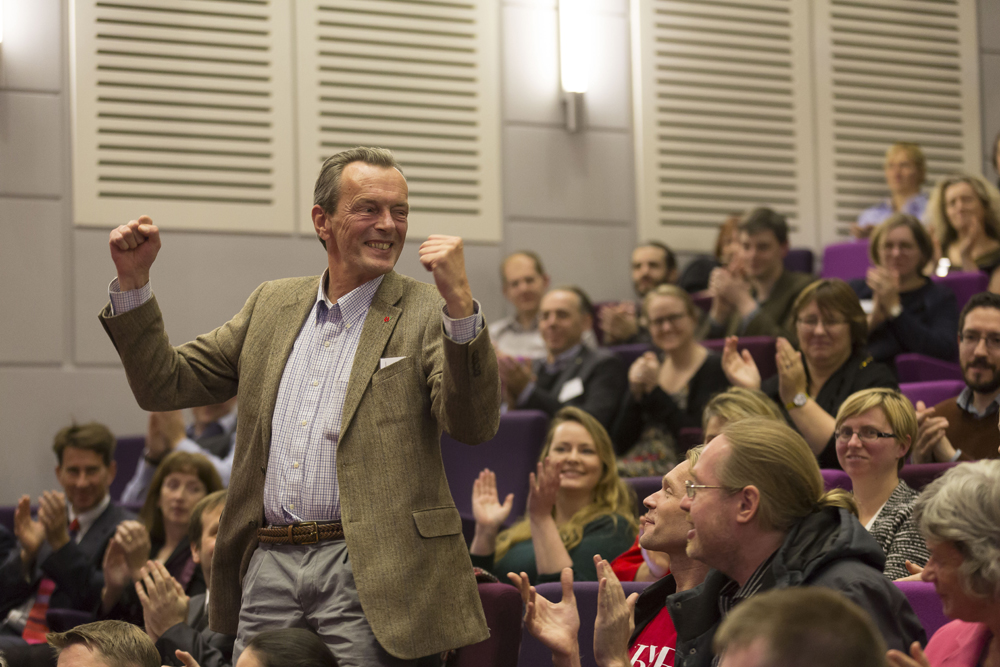 An elated Joost van der Nat demonstrates just how exciting it is to win a Digital Preservation Award
Hurrah, that'll put the spotlight on digital preservation and celebrate all the tremendous work our members do! Take that digital dark age!
But as Chris Fryer reminded us during his session of the DPC's latest briefing day 'Procuring Digital Preservation,' advocacy is a process not an event.
Besides, the Digital Preservation Awards only happen every other year. And (between you and me) that's probably a good thing. It requires an entire year's worth of time, effort and energy to plan and execute the Digital Preservation Awards, and though I can't speak for colleagues, I certainly need a lie down in a darkened room after all that excitement. It's absolutely worth it.
But if advocacy is a process, how do we maintain the momentum, what about the 'other' years?
Before the DPC team grew and we were able to take on as much as we do now, the answer was…everything else happened. It was back to business as usual, and everything we couldn't manage while the awards were in progress. But now the membership has grown to more than 60 members, and the team has grown with it, we have more capacity to sustain this ongoing conversation about digital preservation: 'chippy campaigning' as the boss likes to call it.
So that's the plan, and we've got a few ideas up our sleeve:
1. A Digital Preservation Red List
The IUCN Red List of Threatened Species is recognized as a comprehensive approach for evaluating the conservation status of plant and animal species. What if the DPC and the digital preservation community built a similar list of at risk digital stuff: file formats, file types, collections, entire sectors or organizations etc? I could imagine the entire digital records of Leeman Brothers being on the list in 2007; and the promises made by the Vote Leave campaign in 2016. We could celebrate good news stories as entries make their way down the list … whilst sneakily drawing attention to those more at risk without the message becoming negative.
2. International Digital Preservation Day
Although largely unplanned, the DPC has managed a few other similar smaller scale initiatives, e.g. #nodigitaldarkage day which encouraged members to tweet pictures of their daily work in digital preservation. The Archives community does this superbly with Archives Matter, 'ArchI've Discovered', and International Archives Day. Why don't we use International Digital Preservation Day to draw together institutions from across the world, with events, social media campaigns and talks to highlight and showcase the importance of digital preservation?
3. Online 24 Hour Webinar Marathon
As part of International Digital Preservation Day, what if one of the events drew together speakers from around the world to speak over a 24-hour period on, for example, potential entries for the Red List? It seemed like such a good idea when we pitched it at iPres in 2016. But you know we already have webex and it's available for up to 100 people in all time zones 24*7*365. So why not just go for it. Volunteer speakers please?!
It goes without saying that this list is not exhaustive and all other ideas and suggestions will be very gratefully received. And they are not either/or: these ideas can go together.
The DPC Advocacy & Communications subcommittee of the Board will be assembling in May to start putting some/all/other of these plans into action. If you've got a 'chippy campaign' bubbling away in the back of your brain – don't keep it to yourself – add it to the comments or send me an email with your musings, and it may well even happen. And if by any chance, you know of a digital collection at immediate risk, or feel brave enough to admit to inadvertent data loss of your own, maybe you could nominate it for the first-ever anti-DPC award?