What is NED?
National edeposit (NED) as a service was conceived in response to the complexity of Australia's legal deposit system. It was built as a collaboration between Australia's national, state and territory libraries – the nine members of NSLA.
In Australia, publishers are required by law to deposit publications with the National Library of Australia and with their local state or territory library. In New South Wales, Queensland and South Australia, some publishers are also required to deposit publications in parliamentary and university libraries. Adding further complexity, some libraries prefer electronic copies of material where others require print copies, or both. Some are still awaiting state-based legislation for the extension of legal deposit to electronic materials. Some are using sophisticated digital preservation systems, while others are under-resourced or yet to introduce a digital preservation system at all.
Even for an experienced librarian, these differences in legislation are incredibly confusing. For publishers, even more so. The consequence? Missing publications and significant gaps in the preservation of Australia's digital documentary heritage.
In 2016, after a decades-long campaign, Australia's national legal deposit provisions were extended to cover electronic materials through changes to the Copyright Act. The members of NSLA saw an opportunity to build on their long history of collaboration and create a single service for the deposit, management, preservation, and delivery of published electronic material nationwide.
Following a two-year build phase to satisfy nine sets of legislative and technical requirements while balancing open access principles, copyright law, content security and protection of commercial viability, National edeposit (NED) went live on 30 May 2019.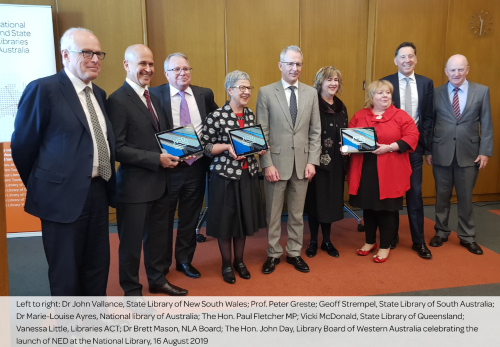 Building NED
The system behind the NED service needed to accommodate thousands of separate publisher accounts and logins for library staff with different levels of access and control, detect the appropriate locations for public access and identify six levels of access according to publisher preference, handle the ingest of a variety of electronic formats, offer bulk ingest capacity for multiple files, provide a secure viewer for items with the highest access restrictions, and incorporate an entire digital preservation system for the long term care of the collection. It had to be fast – moving from acquisition to availability not in days or weeks, but in minutes.
The project was carried out in five phases:
1. Stage 1 (February – December 2016): Steering Group established with representativesfrom all nine NSLA libraries. Working groups created with responsibility for analysis of legislation, digital preservation, service modeling, policies and strategies. Early scoping and modelling.
2. Stage 2 (January – July 2017): Formal business case completed and endorsed by NSLA CEOs. IT requirements in each library documented in detail. User experience design commenced. Branding proposal completed to ensure visibility of all contributing libraries. NED Deed finalised and signed by all nine members, specifying the approach to governance, decision-making, software specification and system build processes, risk management, dispute resolution, publisher liaison, service phase, fees, data management and digital preservation.
3. Stage 3, build phase (October 2017 – June 2020): System designed, tested and built, including five rigorous rounds of user acceptance testing, three months' end-to-end and penetration testing, and migration of existing electronic content in member libraries. Website built and user guides developed. User experience testing and communications with publishers and end-users in the sector. NED Operational Group established with system experts in each library, and NED Support Officer appointed. Access agreements obtained from major commercial publishers. Collective policies for content, publisher management, privacy, and terms and conditions of use completed.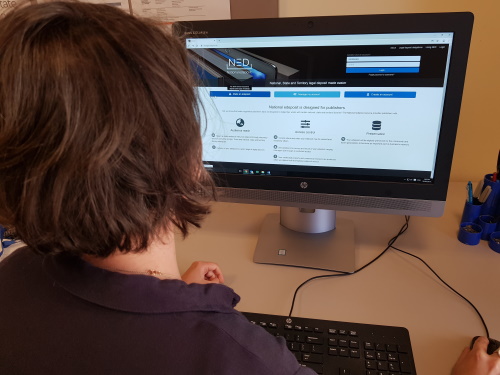 4. Service phase commenced in July 2019, with the National Library of Australia as service provider responsible for collection management and preservation, and NED member libraries responsible for publisher liaison, data migration and tracking in their state or territory. The service was publicly launched in August 2019. Data migration (of collections already held by libraries) and bug fixes continued for Stage 3 through to June 2020.
5. Stage 4, enhancement phase (April 2020 – ongoing): With the NED service live for a year, work began on major service enhancements to address requirements such as bulk FTP functionality for large media publishers.
Preserving NED
One of the most attractive aspects of NED for publishers, aside from its easy deposit mechanism, is that it safeguards their publications for future generations. NED does the work for them, preserving each publication to Government security standards, with back-up storage in multiple locations, regular integrity checks and active preservation management to ensure long-term usability.
The NED project has been exceptional in gaining the trust and cooperation of publishers, including major commercial publishers, without which the service would not be effective. The work that has gone into building these relationships has had the direct result of building and preserving a much richer digital legacy for Australia, from bestsellers to government reports, club newsletters, regional newspapers and community publications, with content in multiple languages.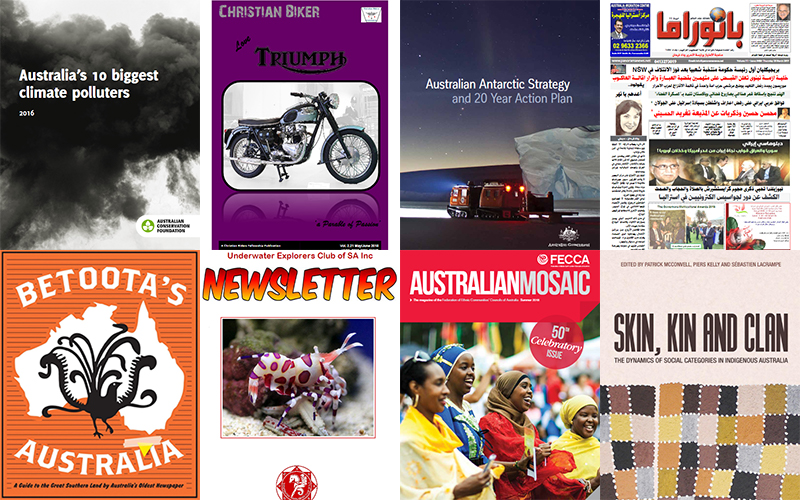 This same spirit of cooperation is what has enabled the nine NSLA libraries themselves to comanage one national system, and to entrust one library – the National Library of Australia –with responsibility for digital preservation, adapting its existing edeposit system to work with NED. The shift in thinking that has brought our libraries to this point is significant, and to be celebrated.
In NED, Australia now has a rigorously tested system that caters to commercial, non-profit,academic, and community-based publishers alike – allowing them to deposit once or in bulk, nominate access conditions, have copies automatically transferred to relevant libraries, and track usage statistics. After one year of operation, the service has captured well over 100,000 digital deposits with over 9,000 publishers registered. NED is already collecting and preserving material that would otherwise have been lost, and that tells a more complete story of Australia.