The launch of HSBC's Global Digital Archive system in 2015 marked the culmination of a challenging project to introduce sustainable digital preservation in the bank.
Background
Our historical archives are highly regarded for their rich variety and international scope. The records document the development of the organisation since 1865, and many of the banks acquired by HSBC and its predecessors over the years. The records also shed light on the social, economic and political history of the communities and countries where HSBC has done business. The collection provides a trusted source of information and supports a range of the bank's activities, from communication and marketing projects to employee engagement initiatives. Our heritage is also shared externally with, for example, academic researchers, educational workshops and public museums. Paper records dominate the collection – with more than five linear km of shelving between the London, Hong Kong,
New York and Paris offices. However, with a growing volume of digitised records, and increasing deposits of born‐digital records, the tide has definitely been turning.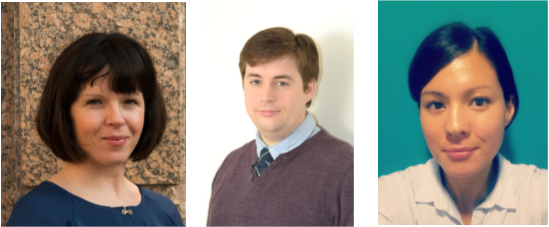 The HSBC Digital Preservation Team: Tina Staples, James Mortlock and Jennifer Febles
Aims
Although well established, HSBC Archives has previously lacked an adequate cataloguing system or digital preservation capability. The project therefore aimed to deliver a system that would store, track and preserve digital objects, whilst also improving management operations across the physical and digital spectrum. As a corporate archive, the solution needed to comply with the bank's stringent information security regulations. The global nature of HSBC added additional challenges. There was a requirement to retain discrete, separately managed, archive catalogues in different geographical locations – whilst also providing cross‐border search functionality to the descriptive metadata.
Planning
We began the project by drawing up a comprehensive list of requirements and looking afresh at existing workflows. We had no wish to force a retrofit of digital processes into the existing paper archive world. Instead, we aimed for policies and processes with the right blend of standardisation and flexibility necessary to manage both physical and digital objects. Our requirements reflected our desire for a system that would optimise efficient business processes, and we took inspiration from the business and information management sectors, as well as traditional archives practices. Securing internal IT and Business Analyst support for the project was a critical step in this respect. We also made use of the wealth of advice available from archives colleagues working in this field.
The solution
During our research, we were surprised by the lack of off‐the‐shelf solutions encompassing both digital and physical archives, given the growth of activity in this sphere in recent times. Therefore, following an in‐depth RFP process, we decided on a collaborative approach that would merge software provided by two separate vendors: Preservica and Axiell (Calm). The Preservica team worked closely with us to design the overall solution and the end result is a mixture of out‐of‐the‐box, with some customisation to meet specific requirements. Calm is used for collection management, and to maintain structural and descriptive information on all holdings ‐ physical and digital. Multiple instances are deployed in HSBC to manage the separate collections in different geographical locations. A single instance of Preservica Enterprise Edition is used to ingest, store, secure and preserve digital records. Preservica holds detailed technical metadata and automatically creates a basic descriptive metadata entry for each ingest, which is synchronised to Calm where the archivists can then carry out full cataloguing. In addition, Preservica holds a copy of the structural and descriptive metadata for all holdings and provides a single point of access for federated searching across all records held around the world. The system is currently restricted to users within the HSBC Archives team.
Achievements
The synchronisation of all descriptive metadata (physical and digital) from Calm to Preservica was a 'first' for the vendors, and vital to our vision of a holistic approach to the curation of both digital and physical records.
Another notable achievement was our ability to navigate the host of complex legal and information security risk issues that arose when looking to preserve and make accessible large amounts of potentially sensitive business records across a global team in a highly regulated banking environment. To address this our ingest workflows were modified to include a transfer agreement compliance check. This customised step checks that digital records are in a file format supported by the bank, based on a white list owned and updated by the information security team, which synchronises directly into the system. We overcame challenges involved in cross‐border and cross‐entity data transfers by designing a user access matrix based on a unique tiered regional security model. All records are categorised with a multi‐layered regional security tag. As users move around the system, their operational role (dependent on region and experience) is checked via the matrix, which is synchronised to the bank's Active Directory authentication database to control what they can and cannot access.
Long term preservation of digital assets was always a core feature of the project and this is now achieved through a policy of active migration to open and stable formats. Using some customisation, the system automates the migration of files to newer formats over time, ensuring future usability whilst also retaining original format versions. There are currently over 300 migration pathways available and the system is able to identify and characterise over 800 different file formats. Preservation workflows also involve a full audit trail and fixity checking, which is crucial in the corporate environment where integrity and legal admissibility of records is basic expectation of any digital platform.
Future
The system's launch in January 2015 marked an important moment in the evolution of HSBC Archives, and was a pioneering step in the wider UK corporate sector. We believe the system offers an integrated view to archival management and digital preservation. It secures twenty first century business archives for future generations and provides global access within the bounds of a stringent security model. Moreover, our ambitions do not end there and the programme continues with planned enhancements such as integration with records management and other information management systems.