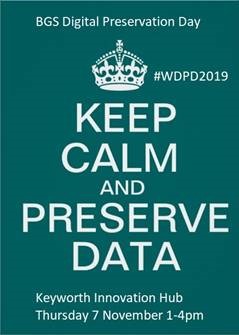 Join the Research Data and Digital Preservation team at the British Geological Survey's Innovation Hub for an afternoon of World Digital Preservation Day activities!
Fun and games
Learn about digital preservation and research data management by playing board games and take the DigiPres Quiz based on Digital Presevation Topical Notes in your resource pack – there's a prize for the sheet with most correct answers!
Tea and chat
Bring your own cuppa and sample some Floppy Disk Cookies and Vintage Computer Cupcakes while you find out what the team has been up to. Chat to researchers about the BGS Digital Research Data Survey which closes on 31 October, read Digital Preservation Posters from BGS and beyond, see animations produced by the BGS communications team on the theme "Biggest threats to your digital data" and meet the BGS Research Data and Digital Preservation Manager Jaana Pinnick... she'll be the one wearing a WDPD2019 t-shirt!
Contact This email address is being protected from spambots. You need JavaScript enabled to view it. for more information.