Presentations
This was the fourth forum held by the Digital Preservation Coalition. The Forums aim to share experience from leading projects with DPC members organisations and to address topical issues in digital preservation. With the growth of distance learning and an increasing effort to digitise collections and package them for use in education in school, colleges, and universities, developing digital respositories and standards for managing learning objects are growing issues. The first session of the day focused on repositories and preservation of e-learning and leading initiatives in the field. The second session in the afternoon addressed cost models for digital preservation and speakers from industry and the public sector covered approaches and different aspects of digital preservation costs.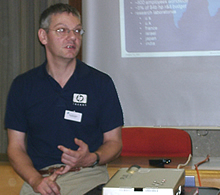 Nick Wainwright from Hewlett Packard
The first presentation was given by MacKenzie Smith (MIT) and Nick Wainwright (Hewlett Packard) on Dspace (PDF 1.08MB). Dspace is an emerging repository software developed at MIT which will be open source, federated and aims to provide a preservation archive. It aims to offer: large scale, stable, managed long-term storage; support for a range of digital formats; easy to use submission procedures, persistent network identifiers, access control, digital preservation services. Amongst the many other interesting things said was the distinction MIT makes between known supported data types (e.g. TIFF, SGML/XML, PDF); known unsupported data types (e.g. Microsoft Word, Powerpoint); and unknown/unsupported data types (e.g. a one-off computer program). Reference was made to discussion within the Digital Library Federation in the USA on establishing Digital Format Registries which would capture format documentation such as specifications at a more granular level than MIME (e.g. TIFF 5.0, not just TIFF).
The next presentation was by Lorna Campbell (Centre for Educational Interoperability Standards (CETIS)) on Learning Technology Standards and Digital Repository Standards (PDF 87KB). CETIS is supported by JISC to provide support to UK Higher and Further education. CETIS has a number of special interest groups on accessibility, assessment, educational content, learning information packages, metadata and an FE focus Group. Learning technology standards and specifications are designed to facilitate the description, packaging, sequencing, and delivery of educational content, learning activities and learner information. They are needed to facilitate interoperability, to prevent content being 'locked into' proprietary systems, to ensure that educational content is durable and reusable, and to enable the sharing of content and learner information. Future considerations include: registries and directories; digital rights management; location and resolution services; request and deliver services; web services.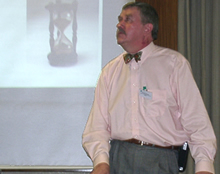 Prof. Bruce Royan of SCRAN
The last presentation before lunch was by Prof. Bruce Royan of SCRAN (Scottish Cultural Research Access Network) on the subject of eLearning and the Business Case for Digital Libraries (PDF 3.08MB). An important part of his presentation was on the topic of sustainability both from a technical point of view and a financial point of view. He discussed several business models that could be attempted to attain a sustainable service. He pointed out the dangers of relying solely upon the strategy of obtaining grants and emphasised the need to develop revenue funding. He then went on to describe the licensing model developed in SCRAN and the use it makes of authorisation, authentication, watermarking and fingerprinting. He went on to describe the RAID conception of what digital objects should be: Re-usable; Accessible; Interoperable; and Durable. His conclusions were: digital preservation implies significant ongoing costs and must be underpinned by strong business models; the most likely source of funding for these costs is educational licensing; licensed resource services must meet the evolving needs of their customers; digital library services like SCRAN must adopt to the standards and frameworks of Learning Object Repositories.
The first presentation after lunch was by Alison MacDonald (Secure Sciences Ltd) whose presentation was entitled: Bits & Bobs, DPC Presentation (PDF 1.04MB). She began by discussing the nature of costs and the problem of identifying costs in digital preservation. She found the OAIS model useful in identifying these costs. She pointed out that digital preservation id a sub-activity - it implies purpose behind retention. Economies of scale imply one or more real or virtual archives. She went on the describe the complexity, the components, the variables and the cost drivers of digital preservation costs. She raised the question of where the costs of digital preservation fall and what the accounting problems are. The need for activity based costing was explored. One of her conclusions was that, "An understanding of costs in digital preservation is an important factor in managing and maintaining maximum funding for digital archives."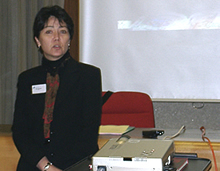 Meg Bellinger from OCLC
The next presentation was by Meg Bellinger (OCLC) and was entitled Cost and Business Models for digital preservation (PDF 85KB): developing digital lifecycle management services at OCLC. After describing different business models and sustainability models, she went on to describe the nature of OCLC and its business model. She saw current issues as being: certification of digital archives; the significant attributes of objects that must be preserved; models for cooperative repository networks and services; systems for the persistent identification of digital objects; intellectual property rights; technical strategies for continuing access; minimal level metadata required for long-term management and tools to automate extraction; economic sustainability. The development costs for the OCLC Digital Archive had been $3.1 million dollars (approximately £2 million pounds). She identified the unknown costs of digital preservation as being: managing technological changes over time; the proliferation of data types; the lack of standardization of data types; and the problem of defining what is essential.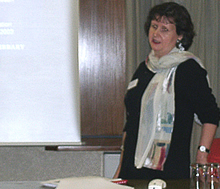 Helen Shenton from British Library
The final presentation of the day was by Helen Shenton (British Library) entitled Developing Life Cycle Models of the British Library - work in progress (PDF 168KB).
She described the objectives of this work as being to: establish the optimum appointment of resources between phases of the life-cycle of the BL collections (traditional and digital) now and define the impact for the future; to identify, document and if possible, benchmark the collection service and interdependencies between each stage of the life cycle; to produce a report, recommendations and implementation strategy for a policy and economic framework by April 2003. The means to realise these aims were to: examine an earlier traditional model to see if it could be adopted; to examine if the traditional model could be adopted for the digital. The objective was to combine traditional and digital models to reflect all of BL's collections. An analysis of activity based costing for collection management and digitisation projects was presented.
Before a general discussion Neil Beagrie described the JISC digital preservation strategy for 2002-5. There were a number of elements directly relevant to the forum including the establishment of a Digital Curation Centre, and feasibility studies on the preservation of e-learning objects and e-prints, which would be announced shortly.
Overall the meeting illustrated well the fact that the most intractable problems for digital preservation are political and economic. What does a sustainable cost model for digital preservation look like? How can a business plan be made given the proliferation of data formats and the lack of standards? How can institutions such as the British Library respond to an increasing work load with a fixed budget? But the meeting also demonstrated that the best response to these problems is creativity and hard work.


Programme
15th October, 2002. Prospect House, York Road, London, SE1 7AW
09.30 - 10.00 Registration and coffee
10.00 - 10.10 Welcome and Introduction
Session 1
10.10 - 11.00 D-Space - Mckensie Smith (MIT) & Nick Wainwright (Hewlett Packard)
11.00 - 11.30 Standards and Digital Repositories - Bill Oliver & Lorna Campbell (Centre for
Educational Technology Interoperability Standards)
11.30 - 12.00 E-Learning and the Business Case for Digital Libraries: A Case Study from
SCRAN - Bruce Royan (SCRAN)
12.00 - 12.30 Panel questions and discussion.

12.30 - 13.45 Lunch
Session 2
13.45 - 14.30 Bits and bobs: Digital Preservation and Costs - Alison MacDonald (Secure
Sciences Ltd)
14.30 - 15.00 Cost and Business Models for Digital Preservation: Developing Digital
Lifecycle Management Services at OCLC - Meg Bellinger (OCLC)
15.00 - 15.30 Developing Cost Models at the British Library - Helen Shenton (British
Library)
15.30 - 16.00 Tea/Coffee
16.00 - 16.30 Closing Discussion
16.30 - Close of Forum

Presentations