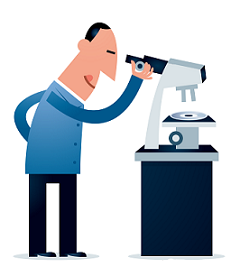 Illustration by Jørgen Stamp digitalbevaring.dk CC BY 2.5 Denmark
Selection for long-term retention will normally occur at acquisition but can be an iterative process occurring at later stages once an item is already in the collections. The term retention and review is used here for this iterative process. The decision process mirrors steps included in the Decision Tree in Acquisition and appraisal and the tree can be adapted for this purpose.
Employing evaluation criteria and selection procedures for all potential digital acquisitions ensures that collections development is carefully prioritised and sustainable. The use of such criteria and procedures should minimise the frequency and need for retention and review decisions, as acquisitions are carefully evaluated and justified prior to entering the collections. Organisations may also need to retain certain in house records and digital materials for regulatory, legal, operational and financial requirements. These should similarly be actively managed to retain their viability, authenticity, and accessibility.
Digital items acquired over time and before institutional policies and procedures were in place will normally require review. This may be one of the first steps that an institution undertakes in implementing a digital preservation policy: quantifying its current digital holdings and assessing preservation risks (see Getting started).
Archives use the series concept for a body of records that share similar characteristics. Typically, many series are on-going for decades. However, the scope and coverage of a digital series may change over time and certainly technology considerations are likely to change and some attention must be given to a careful evaluation as each accession is transferred to the archives.
Over time the need may also arise to review collections and collections policy to reflect changing needs and circumstances. The necessity of making early decisions on selection for preservation in a digital environment (without the period of hindsight which is often available in analogue environment) may mean that future review may be necessary in the preservation life cycle of digital materials.
In a digital library environment where collection levels have been employed, digital materials in any collection level category can be subject to periodic review, re-designated from one level to another, withdrawn, or de-accessioned as required to meet changing needs and circumstances. However, for items selected for permanent preservation it is anticipated that review and de-accessioning will occur in rare and strictly controlled circumstances. For other collection levels such as mirrored or licensed resources review criteria may include:
A sustained fall of usage to below acceptable levels.
The availability of content elsewhere to a higher degree of quality or at considerably lower cost.
Content that has been superseded or is no longer sufficiently accurate to justify maintenance in active form. In such cases, the content may be retained together with subsequent editions or withdrawn.
Expiry or termination of a licence or data exchange agreement and withdrawal/return of a digital resource to the data supplier.
Cost to sustain the data resource outweighs the value/benefit received.
Deterioration in the quality service provided by a supplier or deterioration in the accessibility of content due to poor updating of indexing, imaging, or other characteristics internal to the data resource.
Within the archives and records management professions the use of retention periods and schedules is well established. Records may be destroyed at the end of their retention period, retained for a further period, or transferred to an institution for long-term preservation.
In any collection environment it is important that written procedures are in place for the process of retention and review with clear responsibilities assigned to named individuals or those sections of an organisation in charge of governance and collections development. The timescales, circumstances, and authorisation procedures for the review should be clearly stated. Retention and review schedule documents themselves should be periodically reviewed to keep pace with emerging organisational requirements. Depending on the institution's business environment, its users and depositors may be consulted as part of the process. Any recommendations may then be referred for approval to management and committees as appropriate to the size and significance of the resource.
Where a recommendation is made to de-accession an archived resource there should be procedures to consult with other stakeholders to determine whether transfer to another organisation should occur. In such cases the institution should agree conditions of transfer which include acceptable levels of care for the resource and access to it as appropriate for educational and research users. Financial constraints should not be a main driver for de-accessioning digital objects as the process itself is not without cost and may raise thorny ethical issues. Decisions to de-accession should primarily be driven by the collections development policy.
Accessioned digital materials that have not been retained after review, should retain their entry in any institutional catalogue with comments identifying the process undertaken and any transfer details.
Succession planning by an institution may also be relevant to retention and review. The standard for Audit and Certification of Trustworthy Digital Repositories (CCSDS, 2011) recommended practice 3.1.2.1 requires that the repository shall have an appropriate succession plan, contingency plans, and/or escrow arrangements in place in case the repository ceases to operate or the governing or funding institution substantially changes its scope.
Resources

Deaccessioning and disposal: Guidance for archive services
http://www.nationalarchives.gov.uk/documents/Deaccessioning-and-disposal-guide.pdf
This guide was written to support Archive Service Accreditation, the UK-wide standard for archive services. It is generic and applies to content in all formats, analogue or digital and has no special provisions for digital materials. The standard presents de-accessioning as part of collections development, and requires archive services to have policies, plans and procedures in place for collections development activities including de-accessioning. It includes a disposal destination decision tree (2015, 34 pages).

Digital Preservation Management tools: Digital Content Review process
http://dpworkshop.org/workshops/management-tools/process-results
To complete a digital content review, the digital preservation team gathers information and iteratively accumulates as part of a structured process. The results of ongoing digital content reviews produce a digital content review dataset that enables near-term and long-term planning by organizations.
The National Archives, Disposing of records
http://www.nationalarchives.gov.uk/information-management/manage-information/policy-process/disposal/
TNA have produced step-by-step guidance to help you through the disposal process including a disposal checklist.

The British Library's de-accessioning policy
http://www.bl.uk/aboutus/stratpolprog/coldevpol/deaccessioning/
This policy sets out the circumstances under which the British Library may dispose of certain types of material. It is a generic policy that applies to content in all formats analogue or digital and has no special provisions for digital materials.
References
Consultative Committee for Space Data Systems (CCSDS), 2011. Audit and Certification of Trustworthy Digital Repositories Recommended Practices CCSDS 652.0-M-1 Magenta Book September 2011 [this was subsequently published as ISO 16363: 2012]. Available: https://public.ccsds.org/pubs/652x0m1.pdf