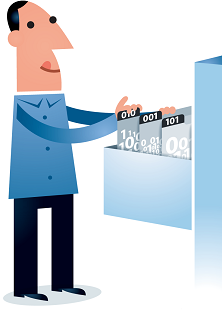 Illustration by Jørgen Stamp digitalbevaring.dk CC BY 2.5 Denmark
Introduction
There has always been a strong link between preservation and access. The major objective of preserving the information content of traditional resources is so that they can remain accessible for both current and future generations. Preserving access to digital objects is the key objective of digital preservation programmes but requires more active management throughout the lifecycle of the resource before it can be assured. It is, therefore, essential to consider issues important to access provision from the beginning of the preservation process, ideally as early as the acquisition phase. This is represented within the Decision Tree for Selection of Digital Material for Long-Term Retention included within the Acquisition and appraisal section of this handbook. With this in mind this section aims to identify the main issues that must be considered, the decisions that should be made when planning for access provision and how these may impact on preservation more generally.
Understanding users
Understanding potential users is essential when planning for the provision of access to digital objects as well as being a key consideration of broader digital preservation activities. The importance of such work is perhaps most evident in the focus on 'Designated Communities' within the Open Archival Information System Reference Model. Knowledge gained about these potential users will inform decisions made throughout the lifecycle but will likely hold most weight when choosing suitable access delivery solutions, balanced with resource and technological considerations. It is important to approach the identification of user communities and their needs systematically and objectively. In short, understanding what users want to do and what functionality can be provided by the repository.
The methodology used for the gathering of this information will vary depending on the organisational context. Potential options and tools may include the following:
Analysis of current usage (access requests for both physical and digital objects, website statistics etc.)
Surveys
Focus groups
Interviews
Use cases
Task analysis
When carrying out user analysis it is important to consider both existing users and non-users. Although interaction with non-users is inherently more difficult this can be a useful process towards understanding current barriers to use as well as identifying potential new market sectors.
Once collected this information should be used to inform decisions that are made in relation to the implementation of access delivery solutions. It is also important to continue to monitor the development of user communities and this should be incorporated in the standard Preservation planning activities within your organisation.
Access formats
A key consideration when planning for access is the format in which the digital objects will be delivered to the users. While there is a strong link between preservation and access in terms of the overriding objective of a digital preservation programme, there is also a need to make a clear distinction between them. There may be a combination of technical, legal, and pragmatic reasons to separate the access copy from the preservation copy, so it may be desirable or even necessary, to deliver an access copy of the digital object to the user in a different format from that held within the preservation system's storage. Indeed, an organisation may wish to offer different 'flavours' of format depending on the needs of the particular user or community in question. When selecting formats for access there are several questions an organisation will need to consider, these may include the following:
What is the mostly commonly used/widely supported format for the object type?
Will users have access to free viewers/software that support the proposed file type?
What file size is produced and what are the implications for delivery to the user?
Is the format easy to use?
Will users require guidance or supporting documentation to allow them to access/use the objects?
Does the organisation have separate user communities with different requirements for access?
See also File formats and standards for details of common preservation and access formats.
Legal issues for access
There are a variety of different legal issues that will probably need to be addressed when providing access to digital objects that will affect both the technological solutions that are deployed as well as who can access the material and when. This is one of the main access considerations that overlaps with acquisitions, as mentioned above, and it is essential that the correct information is gathered at that time to facilitate access requirements later in the life cycle. Without this information it may not be possible to properly manage access and may open the organisation to a number of potential legal risks.
Legal issues to be considered will include:
Restrictions of use relating sensitivity and data protection
Agreed embargoes on content where early access may represent a breach of contract
Management of intellectual property rights, e.g. copyright
Management of IPR, in particular, should be aligned with the acquisition process with careful consideration given to transfer and ownership agreements and copyright licences put in place at that time. Licences must clearly state permitted access and reuse permissions, including third party licensing. These must then be clearly represented in policy and procedures for access, whether managed through a rights management system or by other methods.
Forms of access provision
The final key decisions an organisation must make are in the form of:
Policy
Procedure
Free or charged services
Online/Offline access, and the access environment provided
Access for the disabled
Storage and security
If the access copy is the only copy of a digital resource, then the danger of loss from theft or damage is clearly very high. If this approach is taken a risk assessment needs to be undertaken consisting of some of the following questions (See also Acquisition and appraisal and Storage):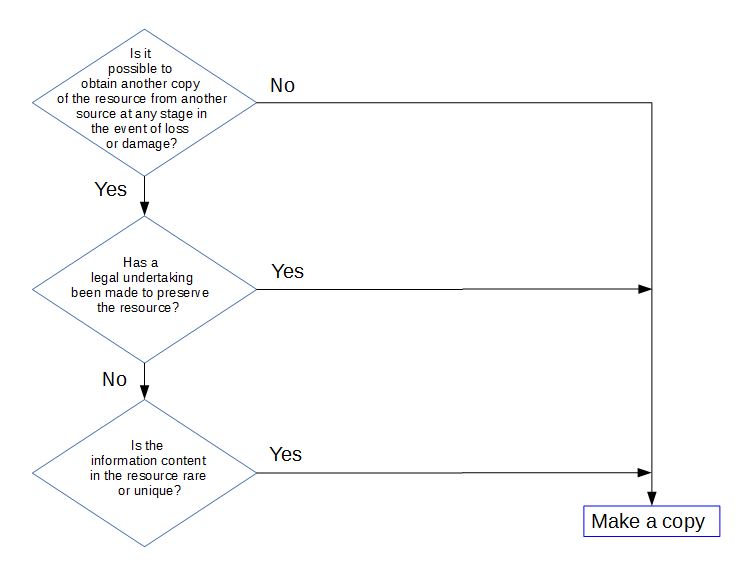 Conclusions
Access is closely linked to many other digital preservation issues and technologies covered in the Handbook. In particular you may wish to look at Institutional policies and strategies, Legal compliance, Metadata and documentation, Acquisition and appraisal, Storage, Legacy media, File formats and standards, and Information security.
Resources

Born-Digital Access in Archival Repositories: Mapping the Current Landscape, Preliminary Report August 2015
https://docs.google.com/document/d/15v3Z6fFNydrXcGfGWXA4xzyWlivirfUXhHoqgVDBtUg/preview?sle=true#
This interesting document represents preliminary findings and analysis of a study and survey on current born-digital access practices in over 200 cultural heritage institutions. Respondents were primarily from the USA.
Reference model for an open archival information system (OAIS): Recommended practice (CCSDS 650.0-M-2: Magenta Book), Consultative Committee for Space Data Systems 2012
https://public.ccsds.org/pubs/650x0m2.pdf
This was later published as ISO 14721:2012, Space Data and Information Transfer Systems – Open Archival Information System (OAIS) – Reference Model, 2nd edition. The Access function within OAIS manages the processes and services by which consumers – and especially the Designated Community – locate, request, and receive delivery of items residing in the OAIS's archival storage. As such, it is the primary mechanism by which the archive meets its responsibility to make its information available to its user community. (135 pages).
Adrian Brown 2013 Practical Digital Preservation a how-to guide for organizations of any size
Chapter 9 (28 pages) of this book is devoted to the topic of providing access to users.

Community Owned digital Preservation Tool Registry COPTR
http://www.digipres.org/tools/
There are a large number of tools for access or that have access functionality incorporated in them. The Handbook recommends searching for them via the POWRR Grid tool within COPTR. The POWRR Tool Grid provides a set of interactive views designed to help practitioners identify and select tools that they need to solve digital preservation challenges. The Access, Use and Reuse column of the Grid identifies access tools for specific types of content or generic tools and systems that have access functions. Everything in the Grid is hyperlinked, so simply click through the displays until you find the information you are looking for. Clicking on the name of a specific preservation tool will reveal more detail on the COPTR wiki, which is where you should go to expand or update the tools information.
AIMS Born-Digital Collections: An Inter-Institutional Model for Stewardship. University of Hull, Stanford University, University of Virginia, and Yale University (2012)
http://dcs.library.virginia.edu/files/2013/02/AIMS_final.pdf
The AIMS (An Inter-Institutional Model for Stewardship) framework is a methodology for stewarding born-digital materials. It is divided into four main sections for high-level best practices for born-digital workflows: collection development, accessioning, arrangement and description, and discovery and access. Access primarily focuses on redaction and sensitive information. The appendices include, for example, sample processing workflow diagrams, an analysis of tools, and donor surveys. (195 pages).
Case studies

TNA case studies: Online access
http://www.nationalarchives.gov.uk/archives-sector/online-access.htm
a series of nine case studies published by TNA on how collections have been made more accessible by putting records online. They are drawn from a wide variety of archives.
Codebreakers: makers of modern genetics
https://digirati.com/work/galleries-libraries-archives-museums/case-studies/wellcome-library/
A case study by digirati, the developers of the Wellcome Trust Library player focussing on the player its use in accessing the Francis Crick collection.The Wellcome Library's digital player is freely available for anyone to download and use. The player can be used to display all types of digital content, including cover-to-cover books, archives, works of art, videos and audio files. The software can be downloaded from the Wellcome Library GitHub account (https://github.com/wellcomelibrary/player).
Managing Risk with a Virtual Reading Room: Two Born Digital Projects, Michelle Light
http://digitalscholarship.unlv.edu/cgi/viewcontent.cgi?article=1462&context=lib_articles
Between 2010 and 2013, the University of California, Irvine, launched a site to provide online access to the personal papers of Richard Rorty and Mark Poster in the form of a virtual reading room. The virtual reading room mitigated the risks involved in providing this kind of access to personal, archival materials with privacy and copyright issues by limiting the number of qualified users and by limiting the discoverability of full-text content on the open web. The case study goes through each phase of research and thinking, including comparable projects happening at other institutions and lessons learned in a very open and informative way.
From Accession to Access: A Born-Digital Materials Case Study, by Cyndi Shein Journal of Western Archives Volume 5 Issue 1 (2014): 1-42
http://digitalcommons.usu.edu/cgi/viewcontent.cgi?article=1036&context=westernarchives
Between 2011 and 2013 the Getty Institutional Records and Archives made its first foray into the comprehensive ingest, arrangement, description, and delivery of unique born-digital material when it received oral history interviews generated by some of thePacific Standard Time: Art in L.A. project partners. This case study touches upon the challenges and affordances inherent to this hybrid collection of audiovisual recordings, digital mixed-media files, and analog transcripts. It describes the Archives' efforts to develop a basic processing workflow that applies the resource-management strategy commonly known as "MPLP" in a digital environment, while striving to safeguard the integrity and authenticity of the files, adhere to professional standards, and uphold fundamental archival principles. The study describes the resulting workflow and highlights a few of the inexpensive technologies that were successfully employed to automate or expedite steps in the processing of content that was transferred via easily-accessible media and consisted of current file formats.