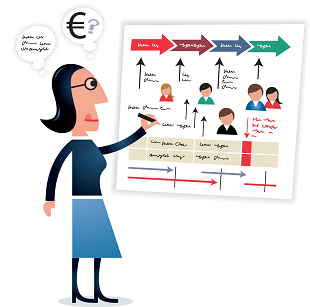 Image: digitalbevaring.dk CC BY 2.5 Denmark
Who is it for?
Both senior administrators (DigCurV Executive Lens) and operational managers (DigCurV Manager Lens) within institutions. Also existing or potential third-party service providers.
Assumed level of knowledge
Intermediate (basic understanding of the issues, some practical experience).
Purpose
To form the basis for further development of policies and strategies appropriate to individual institutions.
To provide existing examples of good practice which might serve as models.
This section outlines a number of strategies which have been used successfully by institutions in developing approaches to digital preservation. Each sub-section discusses the approach, its potential advantages and disadvantages, and then provides exemplars of the approach together with further reading on the topic. Strategies such as these will form a core component of corporate policy development to address digital preservation. Sound policy development combined with effective working practices and procedures (see Organisational activities) has been essential to effective digital preservation programmes.
Download a PDF of this section.
Save