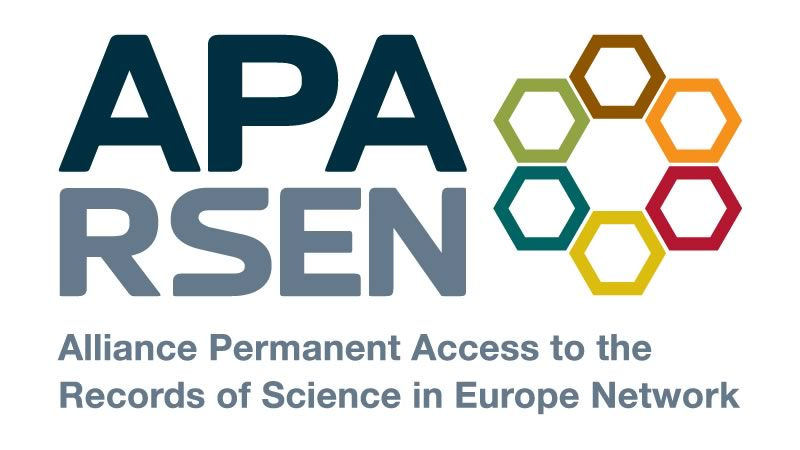 An APARSEN Training Event Organised by the Digital Preservation Coalition in association with the Digital Repository of Ireland and sponsored by the European Commission
This two-d

ay training event, organised by the DPC in association with the Digital Repository of Ireland on behalf of the APARSEN Project, will focus on the topic of 'Trust' in relation to the preservation of digital objects. Long established as a key issue for those engaged in digital preservation, it will examine how we can establish trust in preservation processes and actions from a number of different perspectives.
The workshop is a distinctive

addition to digital preservation training activities in Europe. It is intended for managers and staff already working in digital preservation. It assumes a working knowledge of existing standards like the Open Archival Information System - OAIS - as well as an understanding of how issues of preservation apply to their own institution.
This training event is co-funded by the European Community's 7th Framework Programme for Research and Development FP7/2007-2013 – ICT-2009.4.1: Digital Libraries and Digital Preservation (grant agreement No 269977), the APARSEN Project.
What will we do?
Attendees are welcome to attend one or both days.
The first day, presented in a workshop format, will include presentations from the APARSEN project on its work on the audit and certification of repositories, and the capture and maintenance of authenticity and provenance information for digital objects. Presentations from guest speakers will also examine trust in relation to data sharing and reuse, and establishing trust in digital preservation practitioners. Attendees will also be encouraged to participate actively in a panel discussion on the topics covered. Day one is intended for researchers, practitioners and managers looking for a practical introduction to latest thinking on the topic of Trust in digital preservation. It will help them evaluate options, understand emerging trends and make informed recommendations for action.
The second day will be a 'deep dive' into the issues of certification, authenticity and provenance, providing practically focused training on each topic. This will include more detailed and more presentation and discussion of emerging trends and case studies derived from the APARSEN project, and will make use practical exercises. Day two is intended for practitioners seeking to implement practical solutions or seeking to improve existing workflows in their institutions.
Participants in this workshop will:
Gain an understanding of the importance of trust in the relation to the preservation of digital objects and data.
Hear about the latest developments from the APARSEN project
Learn about the framework developed within APARSEN for the capture and maintenance of authenticity and provenance data
Understand the issues relating to trust and the sharing and reuse of social science data
Gain an understanding of the European framework for the audit and certification of digital repositories
Hear about the outcomes of the DigCurV project and the competences required to work effectively within digital preservation
Learn how to undertake an self-assessment of their repository using the data seal of approval
Have an opportunity to discuss their own experiences and issues relating to 'trust'
Be invited to feedback their own concerns and questions relating to 'trust' to researchers and developers working on the topic.
In addition, participants on the second day will
Participate in practical exercises relating to the topics covered and discover solutions they will be able to implement within their own organisation
Who should come?
This training event will interest:
Records managers and information officers in organisation that rely on long-lived data
Risk managers, executives and chief information officers seeking to minimise information risk or maximise information potential
Collections managers, librarians, curators and archivists in all institutions
Tools developers and policy makers in digital preservation
Innovators and researchers in information technology and computing science
Vendors and providers of services for preservation, records management and forensics
Innovators, vendors and commentators on digital preservation and cognate fields
Analysts seeking to develop tools and approaches for information management
Outline Programme
Tuesday 4th June
1000 Registration and Coffee
1030 Welcome and introductions - William Kilbride, DPC
1040 Introduction the APARSEN Project – Sharon McMeekin, DPC/APARSEN
1100 Introduction to The Digital Repository of Ireland – Natalie Harrower, DRI
1120 Documenting the Authenticity and Provenance of Digital Data – Mariella Guercio, CINI/APARSEN
1155 Social Science Data - strategies for sharing – Aileen O'Carroll, Digital Repository of Ireland
1230 Lunch
1315 Audit and Certification, the European Landscape – Ingrid Dillo, DANS/APARSEN
1350 Audit and Certification, an Auditors Perspective - Barbara Sierman, KB/APARSEN
1425 Trust and Digital Preservation Professionals - Laura Molloy, HATII / DigCurv
1500 Tea and Coffee
1530 Roundtable
1630 Thanks and Close
Wednesday 5th June
0930 Authenticity and Provenance Framework Session - Mariella Guercio (see above for slides)
1100 Tea and Coffee
1130 Data Seal of Approval - Hervé L'Hours
1300 Lunch
1400 Data Seal of Approval cont'd
1600 Thanks and Close