The DPC Award for Teaching and Communication celebrates significant efforts to empower workforces or engage policy makers with the skills and information they need to make digital preservation a practical reality. It is presented to the project, initiative or person that, in the eyes of the judges, has produced training resources, curriculum, or campaign that has (or will have) the greatest impact in ensuring our digital memory is available tomorrow, or undertaken empirical research that will evidently support the development of those skills.
Four nominations are being taken through to the final round. Here the nominees describe their motivations, their projects and their impact.
Digital Archaeology from Story Worldwide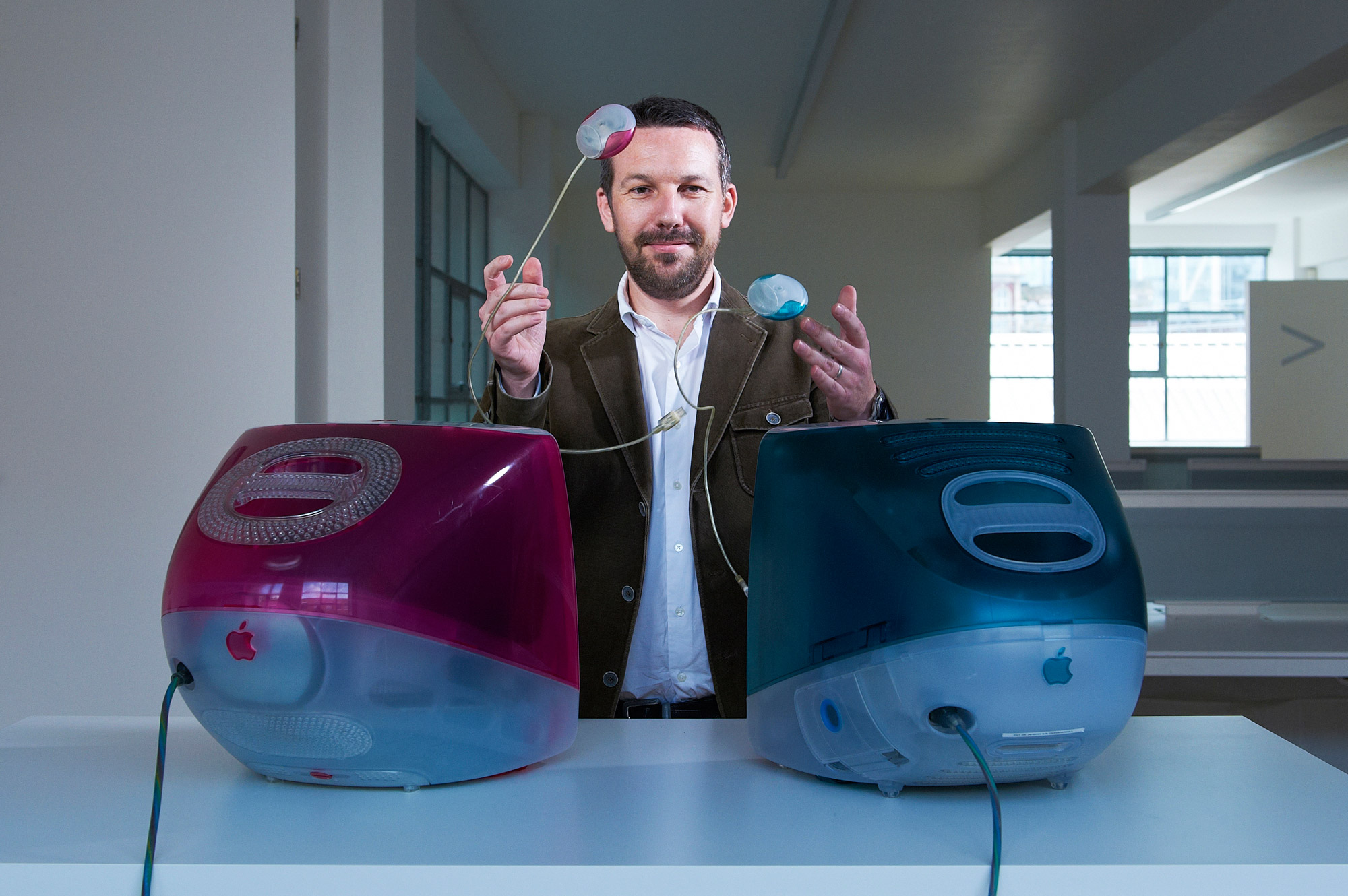 The early years of the web were a period of experimentation, there was no best practice, there were no rules. This rich period of creative expression was dominated by nonconformists, not all of whom were computer scientists. Designers, artists, writers, photographers, illustrators, filmmakers and musicians dived into this new media without inhibition. These mavericks defined the way we now see, hear, share, sell, buy, interact, and participate in society. Tragically, many of these formative sites from the 90's and early 2000's, built by these pioneering creatives, can no longer be seen.
The story of the first web page, created by Tim Berners-Lee on August 6th 1991, is typical. Its significance wasn't obvious to its creator, who over-wrote it with the second web page the following March. No copy of the original web page, not even a screenshot exists. A record of that monumental point in our culture has been lost forever.
Concerned that the evidence of this culturally significant period was being lost, I led a project to harvest and restore landmark websites and present them in an exhibition, " Digital Archaeology", as part of Internet Week Europe in London.
Archiving websites is not a new idea. The British Library, The Library of Congress and notably Archive.org's Wayback Machine have been archiving websites for a decade or more. The Wayback machine in particular is a valuable resource but it is an imperfect one. It does not archive any site pre-October 1996 and suffers from missing media and broken links. Crucially, as these are web-based archives, the websites are seen within today's browsers, on today's monitors, at today's processing speeds and therefore the visitor is only experiencing part of the story. A true record of the original sites only exists when they are seen in the context of the hardware and software they were created on and for. For example, the first website can be seen on the CERN website but when Tim Berners-Lee invented the webpage, he also had to invent the web browser, which is often forgotten.Only by seeing the first webpage and first web browser in combination can we appreciate that the web was envisaged as a multi-author environment from the outset, the browser was also an editor. As part of the Digital Archaeology exhibition, we re-united the first (second) ever webpage, with the Nexus Browser for what we believe is the first time since Tim Berners-Lee left CERN.
The code for the first website is publically available, however it was not as easy to obtain the code for other groundbreaking websites, like the first animated website (The Blue Dot), the first ezines (Word.com), early online communities (Head-Space.com) and the first branded utility (Nike Plus). Agencies had been acquired or gone out of business, people had moved on, records were poor, files had been lost and at best, code was stored on redundant media.
The creatives, technologists and entrepreneurs that formed this culture are all forward looking people, interested in what's next, not what's been. This is typified by an exchange we had with Ajaz Ahmed, founder of AKQA. When we asked him to put forward an exhibit for the show he declined, saying AKQA was inspired by the future and had a policy of not celebrating the past. We concluded that there are three types of ownership - legal, physical and emotional, the latter being the most important for web archiving.
The first show, Internet Week Europe 2010, exhibited 18 groundbreaking websites on the hardware and software of the day. We also interviewed those that had donated code and asked them about their work and their attitudes to web archiving. It was Internet Weeks most talked about event and received worldwide attention from major media outlets such as the BBC, The Guardian, The Daily Mirror, Reuters, Wired, Fox News, The Wall Street Journal and over 100 other news organisations. Helen Hockx-Yu, Web Archiving Programme Manager at The British Library praised what we had done and gave a talk on the challenges of preserving digital media. Gratifyingly, it wasn't just people involved in the industry who were interested, it was accessible to anyone who had owned a computer or accessed the web over the last twenty-years.
It was so successful that we were asked to deliver the exhibition again as a core event of Internet Week New York 2011. We decided to expand and improve the show, unearthing, restoring and displaying 28 groundbreaking websites. The show attracted 12,000 visitors and sponsorship from Google. Abigail Grotke, Web Archiving Team Lead at the Library of Congress gave a keynote presentation focusing on the importance to the world of recovering and saving these works. The event again attracted a huge amount of press from CNN, NPR, The Daily News, CBC, Slashdot, The Next Web, ReadWriteWeb and over 200 other news organisations.
The Digital Archaeology event isn't just a nostalgic trip into our recent digital past, it's a rallying cry. The project seeks to raise the profile of web archiving and motivate individuals to rescue and restore the code of early websites while they still can. Just because it's recent history, doesn't make the early web experiments any less important than the first cave paintings, Muybridge's first experiments with the moving image or the first works of literature created by the Sumerians in the 18th century BC.
The show has been a phenomenal success, 12,000 visitors, 90,000 mentions online, global press coverage and support from The British Library, The Library of Congress and Google. I have a publishing deal to write a book about these early web pioneers and was asked to present at the 2012 Digital Preservation Conference in Washington DC. The MOMA in New York see this work as a crucial record of the history of late 20th Century design. Crucially, it has reached the only audience that can make a significant difference to the preservation of the early web, the creative pioneers that built it.
Digital Preservation Training Programme from University of London Computer Centre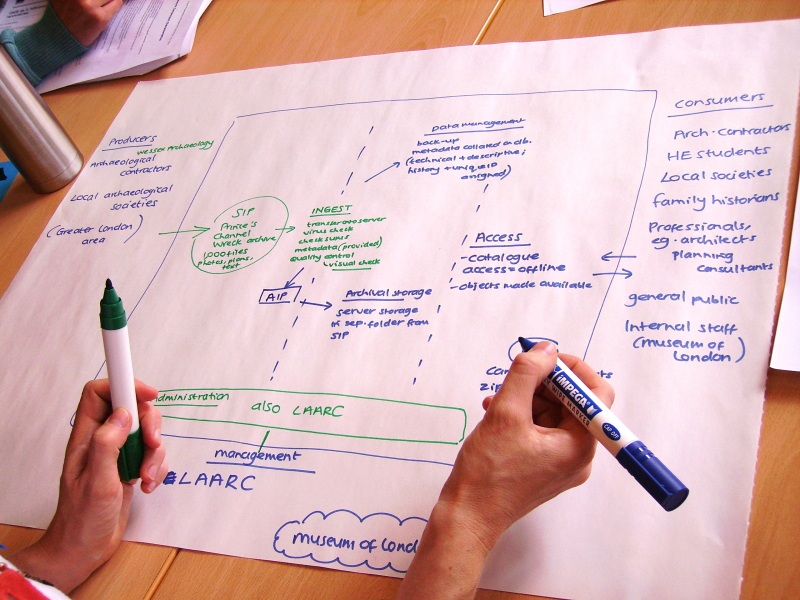 DPTP is an ongoing programme which has provided targeted training since its inception as a JISC-funded project in 2005.
DPTP is a national service that supports digital preservation by providing accessible training courses. It does this through adherence to core principles (OAIS, the performance model), and by teaching about widely accepted standards in the field (for example, METS, PREMIS, and TDR). It spreads awareness of significant recent initiatives, toolkits, systems and services (including Archivematica, DPSP, RODA and repository software) that can be used for preservation.
DPTP is a body of work that has continued to evolve from initial ideas to fully functioning and embedded modular training programme. The teaching method has been continually developed, through feedback, to include greater student participation; learning resources have evolved from ringbinders full of paper to online provision of digital content. The course has become honed a short, intensive, and highly cost-effective introduction to the subject.
After nearly a decade of spreading the digital preservation message, many organisations and people in the UK and elsewhere have benefited from DPTP, including large national memory and cultural heritage institutions, small record offices, individual businesses and companies, universities and colleges; and individuals seeking to use the knowledge gained to educate their own organisations, such as records managers, archivists and librarians.
Organisations who have participated and benefitted include: National Library of Ireland, National Library of Scotland, National Archives of Scotland, Iraq National Library and Archives, British Library, The National Archives (TNA), Wellcome, West Yorkshire Archives, British Telecom, The Royal Household, the European Central Bank, Learning and Skills Improvement Service, Tate Gallery, and many more - both UK and international.
Feedback from students has been consistently good, and has been used to continually improve the course. The course providers take the feedback very seriously and conduct a review of each course in light of our experience and the feedback provided.
The course has maintained its quality by seeking to be flexible, adaptable and relevant. While maintaining an emphasis on established standards and models, optional modules have been provided on subjects including web-archiving, repositories, and digitisation, based on the ongoing professional expertise and experience of the main tutors (Patricia and Ed) or of specially invited presenters.
While the course has a strong theoretical basis, the material reflects real experience. The Digital Archives team at ULCC have worked on a wide range of projects which inform the content of the course. The National Digital Archive of Datasets, for example, provides a case study of workflows for database preservation, while the teams work with the UK Web Archiving Consortium and the ongoing EU-funded BlogForever project provides new perspectives on web preservation.
The team has thus experienced the variety and rapidity of change in the arena of digital preservation. We have noted this change reflected in the basic knowledge of the students attending, and constantly strive to meet the current level of interests and requirements.
DPTP has striven to be accessible, running courses not only in central London, but in Edinburgh, Glasgow, Birmingham, York, Dublin and Warwick. In addition to the scheduled courses, custom in-house courses have also been delivered for the National Library of Scotland and the National Archives of Scotland; a custom course is in preparation for the National Library of Ireland in Autumn 2012.
DPTP has also been used as the basis for work with the Iraq National Library and Archives, striving to rebuild and preserve its cultural heritage. As part of the House of Books project, with support from the UN and the EU, DPTP materials haven been enthusiastically received at workships in Jordan and Iraq, and further developments are expected.
Note - University of London Computer Centre (nominee) DPC Executive and JISC (Funders) may not vote for DPTP
Keeping Research Data Safe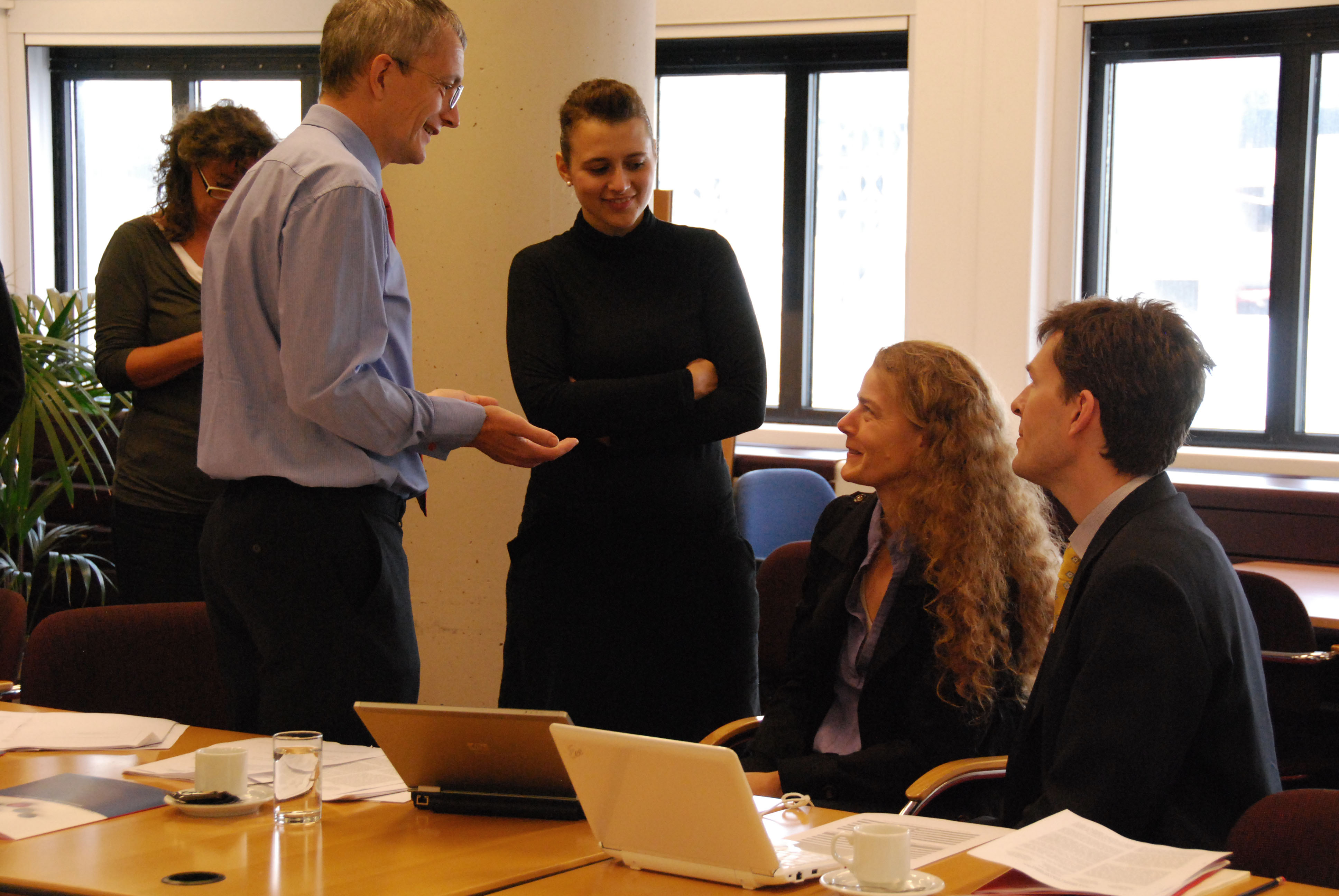 Data has always been fundamental to many areas of research but in recent years it has become central to more disciplines and inter-disciplinary projects and grown substantially in scale and complexity. There is increasing awareness of its strategic importance as a resource in addressing modern global challenges and of the possibilities being unlocked by rapid technological advances and their application in research. However, there are several significant challenges facing the UK academic community relating to the long-term digital preservation and curation, storage, retrieval and discovery of research data
Recognising this, JISC has invested heavily in Higher Education digital repositories and preservation including relevant research on costs and benefits through the Keeping Research Data Safe projects.
Our aims and objectives for post-KRDS research communications were to build upon the research reports and also synthesise and package findings and methods further for wider take-up and dissemination. That activity delivered the following products:
KRDS Factsheet - This A4 four-page factsheet is intended to be suitable for anyone interested in a concise summary of our key findings. It will be relevant to all repositories and institutions holding digital material but of particular interest to anyone responsible for or involved in the long-term management of research data. In his recent book Preserving Digital Materials Prof Ross Harvey stated that "The KRDS Factsheet is required reading for anyone interested in digital preservation…".
KRDS User Guide - The KRDS User Guide is an edited selection and synthesis of the guidance in the KRDS reports combined with newly commissioned text and illustrations. It is intended to act as a concise practical manual for KRDS users particularly those who want to build their own cost models implementing/drawing on elements of the KRDS cost model or present the benefits of their digital preservation activities using/incorporating KRDS approaches.
KRDS Benefits Toolkit– A set of open access tools to help research groups to assess and present the direct and indirect benefits of improved research data preservation. The project partners have validated these tools within their own domains, and produced exemplars that can be used by others as profiles. Each tool consists of a more detailed guide and worksheet(s). The tools have drawn on previous work on benefits and impact for digital curation/preservation. This experience provided a series of common examples of generic benefits that are employed for users to modify or add to as required. The toolkit provides a formalised method for any project or service to define its own opportunities and benefits, and to assess the potential impact (including, but not limited to, financial impact) of investments in better digital curation.
We believe the work is an exemplar of how digital preservation research can be synthesised and how tools can be provided to reach a wide audience and stimulate take-up at various levels of need. Although developed in the research data domain its methods and outputs are made widely available and have been recognised by other digital preservation communities.
The KRDS Factsheet had 2,000 downloads in its first week of release. 20 months later (July 2012) it was still generating around 120 downloads a month (30 per week) and it has had over 5,000 downloads over a 20 month period. KRDS outputs overall had over 13,000 downloads over the last 12 months (from July 2011).
KRDS has been used by data services and centres funded by all seven of the UK research councils and by all the ten KRDS UK partner institutions.
It was used in the US to develop the Dryad cost model for its service and has at least influenced and been cited by other major costing projects including LIFE in the UK, DANS in the Netherlands and the DMDP in Denmark. We have been told that it is being used in curriculum materials in i-schools in North America. It has also been used in the DCC Regional Roadshows in the UK.
The KRDS research reports are also cited in the recent publication Science as an open enterprise (Royal Society June 2012) and their findings contribute to discussion in Chapter 4 Realising an open data culture: management, responsibilities, tools and costs. It is likely our communications work first alerted the authors to the research findings.
Cost-modelling for digital preservation has been undertaken by a range of research projects. We believe no other project has focussed on the benefits of digital preservation to the extent or success of KRDS. The methods and approaches are highly innovative and the adoption and communications activities have largely focussed on this area. It continues to inspire new research and implementations on the impact and benefits of digital preservation and curation.
New research projects by the partners and others have also incorporated KRDS and leveraged further impact from the research. We can point to how the JISC and the Research Councils have since funded a series of three research studies on the impact of research data services that incorporate KRDS with traditional economic approaches to measuring impact (respectively the Economic and Social Science Data Service by ESRC; the Archaeology Data Service by JISC; and the British Atmospheric Data Service by JISC and NERC).The first of these on the Impact of the ESDS was published by ESRC in July 2012 and was cited in its press release as part of the case for its investment in the new UK Research Data Service.
In the current challenging economic climate the main benefits of our work are improved capacity to explain the benefits of digital preservation and improved understanding of relative costs. Organisations and institutions are facing increasing demands to demonstrate significant return-on-investment of public funds. The enhanced ability to demonstrate value and impact from digital preservation and curation in this context is paramount..
Note - Neil Beagrie (nominee) ADS and UK Data Archive (proximity), and JISC (funder) may not vote for Keeping Research Data Safe
The Signal from Library of Congress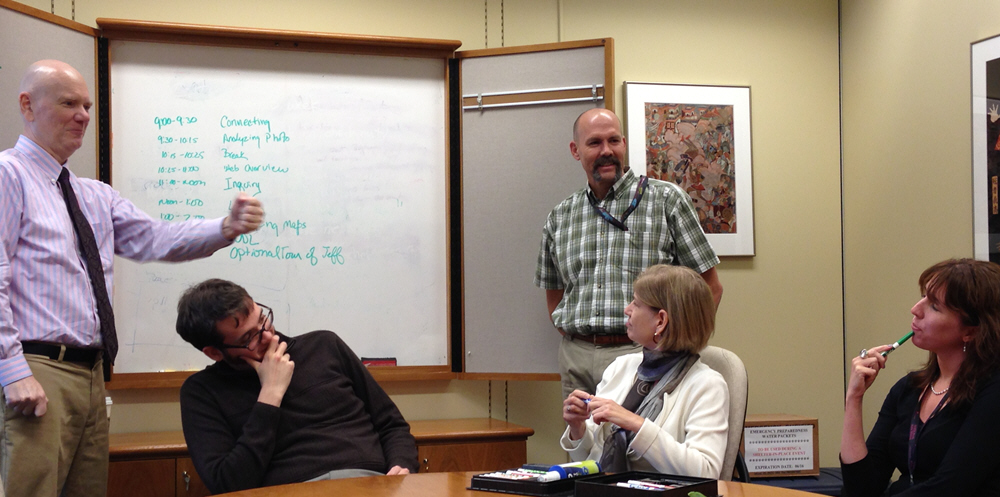 The Signal is a premier source of information for all facets of digital preservation. With a focus on clear, accessible writing about important issues, the publication has a broad reach and a major impact. Launched in May 2011, the blog has published over 340 posts, received over 700 comments, and registered over 300,000 page views. It gives preservation practitioners timely details and unique insights into institutional practices, products and perspectives. The Signal is also an effective tool for gaining wider public attention for the enduring importance of keeping digital assets available and accessible.
The Signal is of proven value for teaching digital preservation. The Library of Congress Digital Preservation Outreach and Education initiative, which is building a national training program for professional continuing education, is detailed in a number of articles. Posts explore developing staff expertise through classroom and hands-on training; surveying digital preservation training needs; delivering train-the-trainer workshops; exploring the requirements for educating data curators; and outlining the skills needed by digital archivists and librarians. The interests and perspectives of current students in library and information science are well documented on The Signal with over two dozen posts by current and former Library of Congress student interns. As a result, the blog offers unique first-person documentation about concrete internship projects with broad value for hand-on digital preservation training programs.
Raising public awareness is critical to extend the practical reality of digital preservation. Preserving institutions depend on community support, and sustaining digital preservation at scale depends on regular people appreciating the value of the work. The Signal uses two basic approaches to engage directly with individuals about the need for preserving digital content. The first is to promote a clear understanding about how digital collections contribute to knowledge and creativity. Articles are written from a popular perspective and focus on the importance and intricacies of preserving the web and social media, as well as digital photographs, video and art. Posts also highlight the critical need for digital content to document and research topics such as the rise of democratic movements around the world and geographical change over time. A second approach draws on the emotional appeal of personal digital archiving. The Signal publishes many posts with practical advice for people to use in keeping their personal collections of digital photographs, social media and other content. These writings are very popular, and often circulate far beyond the digital preservation community. In addition to providing information with practical utility, The Signal helps people appreciate the overall cultural importance of digital preservation, as well as the critical role that cultural heritage institutions have to play.
The blog also investigates topics such as digital forensics, media migration, collection building and institutional preservation policies. There are reports on activities such as exploring economic sustainability, developing tools and services and managing government digital information. Special attention is given to discussing collaborative projects with detailed analysis of the tangible benefits that flow from them. There are insightful interviews with important members of the preservation community, including David Rosenthal, Bram van der Werf, William Kilbride and Andrea Goethals. In terms of a specific benefit to the UK, The Signal discusses web archiving at the British Library; the Measuring the value of culture: a report to the Department for Culture Media and Sport report; the release of DROID 6 by The National Archives; the Digital Curation Centre curation lifecycle model; the JISC Managing Research Data project; the Oxford and Manchester Universities PARADIGM project; and the Preserving Email Technology Watch Report from the Digital Preservation Coalition.
Note - Library of Congress (nominee) may not vote for The Signal