Research activities at ICKamsterdam are conducted under the thematic umbrella of dance documentation, notation, and embodied knowledge transmission. The purpose of this research is not only the preservation and evolution of contemporary dance and choreography, but also to connect to the broader field of art and knowledge domains outside of dance practice and discourse. Between 2005 — 2014 this research was based on the work of choreographers Emio Greco and Pieter C. Scholten and conducted in collaboration between dancer-researcher Bertha Bermüdez and digital dance scholar Scott deLahunta. This collaboration supported innovation in two areas. Firstly, the invention of new forms of dance analysis focused on the articulation of diverse principles and methods. Secondly, working with digital media specialists on the recording, preservation and presentation of embodied dance knowledge in new ways. This research has moved through several phases, including the development of an interactive installation based on the workshop Double Skin/ Double Mind (2005-2007) and the interdisciplinary Inside Movement Knowledge (IMK) research project 2008-2010, during which a generic Documentation Model for contemporary dance based on research in media art preservation was developed.[i] Since 2014, the focus of research has shifted towards the documentation of creative processes in relation to other choreographers working at ICKamsterdam. To continue bringing these information resources into constructive dialogue with evolving digital technologies, a new partnership between ICKamsterdam and Motion Bank was initiated in 2016. This new partnership builds on the legacy of this earlier phase of research and continues the commitment to communicating and sharing the ineffable forms of knowledge embodied in dance with the wider fields. The new focus is on sustainable digital preservation working with the annotation systems currently in development by Motion Bank.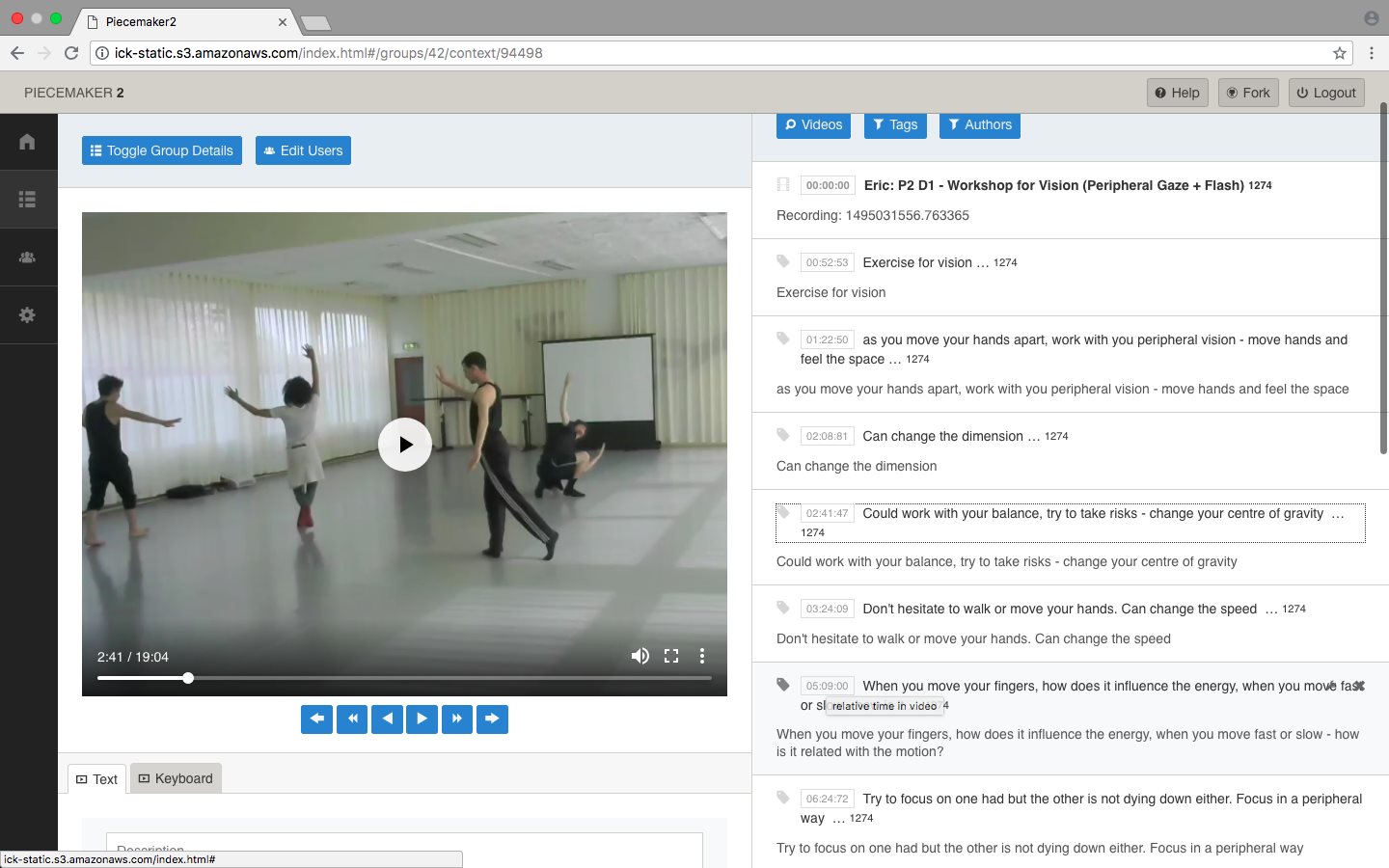 Motion Bank began under the co-direction of Scott deLahunta in 2010 as a project of the Forsythe Company providing a broad context for research into choreographic practice, initially focusing on the creation of on-line digital scores developed with a range of renowned choreographers. The goal was to make their diverse approaches accessible in new ways through digital media (http://motionbank.org/). To support this work Motion Bank further developed the video annotation software called Piecemaker (PM) used by The Forsythe Company to support their creation processes. In 2016, ICKamsterdam began to use a new version of this software, PM2, for the live- and post annotation of creative processes of diverse choreographers to test and invent methods for dance documentation that could function as rich visual/textual resources. The use of PM2 for the documentation of creative processes for new pieces as well as of repertoire re-staging and ongoing movement language research at ICKamsterdam resulted in an archive of five annotated choreographic creative processes to be used for further research and innovation activities within both fields: digital preservation technology and the development of methodologies for annotating creative processes in performative art forms. This research archive exists in parallel with a large archive collection of 20 years of performances and creative processes of choreographic work by Greco and Scholten inclusive of video registrations of guest choreographers working at ICKamsterdam. Whereas Motion Bank has provided ICKAmsterdam with an innovative software platform, it has been the ongoing movement language research conducted by Greco and Scholten for nearly two decades, now collected in a working vocabulary called ABCdaire, which has been shown to enrich video annotations beyond the descriptive level. The application of the ICK ABCdaire within the PM2 annotation technology has far reaching benefits for Motion Bank who are in the process of developing and releasing PM3, a fully open source, standards compliant version of the annotation system.
A brief history of the Movement Language Research of EG I PC
Since already more than 20 years, Emio Greco and Pieter C. Scholten[ii] have committed significant attention to exploring the relationship between language and the body. This deep commitment led them in 2004 to researching the documentation and transmission of dance knowledge in the context of a long-term research project to analyze and articulate their method for preparing their choreographic creative process Double Skin/Double Mind (DS/DM). DS/DM was originally developed as a workshop for discovering the sensitivity and creativity of the body in dance using four basic principles: Breathing, Jumping, Expanding and Reducing. The glossary developed to identify the specific segments and related intentions of the workshop, forms the basis of the ABCdaire, a living and evolving archive of words, definitions, descriptions, categories, metaphors and images derived from Emio Greco and Pieter C. Scholten's dance language. Research into the documentation and transmission of the DS/DM workshop via digital media produced the first version of a DS/DM Interactive Installation and a book publication inclusive of a documentary and a DVD-ROM on documentation, analysis and notation research based on the work of Emio Greco I PC in 2007: (Capturing Intention)[iii]. This innovative and idiosyncratic approach to dance notation via the collection of a verbal glossary formed also the basic content for the DVD-ROM and DS/DM installation where the embodied experience of an installation user becomes the concrete realization of the archival intention. As of January 2018, the ABCdaire contains 176 alphabetically ordered words, categorized according to the sphere of belonging within the expanding choreographic universe of their movement language.[iv]

Why we consider this research as a potential award winner
Annotating creative processes is a new and unexplored territory in dance documentation and creation, but one that is expanding rapidly along with nearly ubiquitous use of video recording in the studio. What is lacking are dynamic vocabularies and methods appropriate for the artistic process. In this context the ICK ABCdaire has been experienced by Motion Bank as a significant contribution. It is a non-reductive, yet systematic approach to a local choreographic vocabulary "providing a mutable semantic set that connects language with movement, all the while not claiming an absolute truth but rather a loose coupling with enough room for artistic interpretation."[v] Having the possibility to use live annotation in the studio during creative processes has so far proven to be a very valuable expansion to the mainly text based documentation practice so far used at ICK, specifically by giving the possibility to highlight the creation of the actual movement materials - which we consider to be the core value of dance and choreography - through a combination of moving image and text.
Describing the genesis of movement materials only verbally is extremely time consuming and far less efficient than working with video and live annotation as delivered by the Motion Bank software. ICKamsterdam has annotated the creative processes of other choreographic practices active at ICK, similarly exploring the potential of establishing working vocabularies that are specific to a choreographic signature for meaningful annotation of creative process documentation in dance. We are convinced, that the intertwining of language development with ineffable embodied knowledge provides expansive potentials for the analysis, preservation, communication and further evolution of the art form dance, for its embodied knowledge and its potential significance for art and knowledge domains outside and inside of dance culture and education.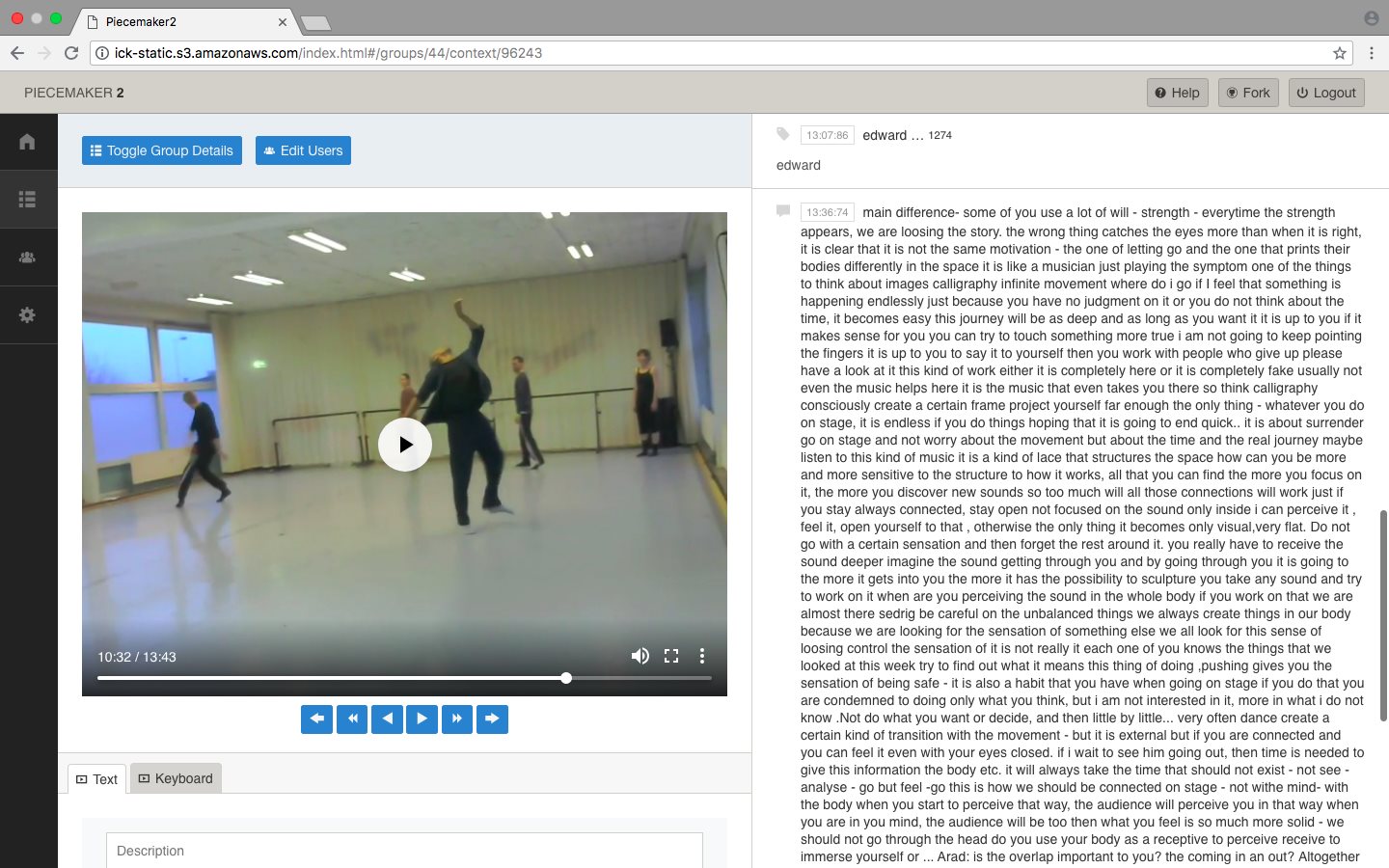 To our knowledge, no other dance company or institute in the Netherlands has invested so deeply into documentation and notation research, which ICK considers essential to both the preservation and the further evolution of the art form. The publication (Capturing Intention)[vi] has been disseminated worldwide in the context of international touring with accompanying workshop activities. The DS/DM Interactive Installation has been used to allow audiences to experience through their own bodies the vision of dance that it aims to transmit, as well as in the contexts of professional dance education and academic research[vii]. Annotation methodologies have been central during a recent annotation workshop[viii] and new and further developed annotation technologies will be explored during an upcoming Research Academy at the ZhdK (Zürcher Hochschule der Künste) on opening up and publishing processes in performance creation guided by Motion Bank and ICKresearch.
---
[i] (http://insidemovementknowledge.net/) This project brought together experts in the fields of notation systems, cinematography, computer-based gesture analysis, interactive media design, cognition research and cultural studies. Besides investigating theoretical and historical dimensions of dance and live performance documentation, movement analysis and notation practices, a wide range of combinations of media tools and approaches were explored, including written descriptions of movements, computer vision, video/film documentation, graphic modelling, visualizations, interactive media, motion capture and existing notation systems. See also Francesca Magnini, "A Study of the work of Emio Greco and Pieter C. Scholten at ICKamsterdam," Inspiration, Emio Greco I PieterC. Scholten. The Multiplicity of Dance, Rome: Artegrafica, 2015.
[ii] Emio Greco and Pieter C. Scholten are the artistic directors and initiators of the international choreographic platform ICKamsterdam since 2009, artistic directors of Ballet National de Marseille between 2014-2018, and artistic supervisors and coaches at Balletto di Roma from September 2018 onwards.
[iii] See also for example https:/(www.ickamsterdam.com/en/academy/research/ick/capturing-intention-17 .
[iv] The current vocabulary categories are: Basic, Double Skin/Double Mind workshop, Pre-choreographic elements, Statements, Mechanisms.
[v] Anton Koch in "Dance Becoming Data Part Two," Computational Culture, 2017.
[vi] (Capturing Intention), Amsterdam: Emio Greco I PC and AHK, 2007. In this publication the role and function of intention within the choreographic oeuvre of Greco and Scholten is investigated from several perspectives such as the archiving of immaterial cultural heritage, media art, technology, already existing notation systems and cognitive neuroscience.
[vii] The recent (2017) publication edited by Prof. Maaike Bleeker Transmission in Motion: The Technologizing of Dance dedicates a chapter on the DS/DM Interactive installation. A hybrid research community under the same name as the book title has been established since then at Utrecht University bringing together researchers from across disciplines with artists and other partners from outside the academy. (https://transmissioninmotiqn.sites.uu.n!/about-transmission-in-motion/)
[viii] MOCO is an international conference for movement and computing. (http://moc018.movementcomputing.org/ ) For an impression of the contents of the workshop, here an excerpt from the abstract to the invitation : "In the last decade, interdisciplinary research projects focused on the documentation and study of choreography and dance including Transmedia Knowledge Base (TKB) and Motion Bank used annotation as a major part of their approach to both analyses of time-based media recordings and presentation of research results. Researchers from both projects continue to develop the methods, approaches and in some cases software platforms supporting annotation of dance recordings. More recently, the Wholodance H2020 project has developed an annotation tool for use in their research aimed at developing and applying technologies to dance. Additionally, several of the MOCO 2017 papers included annotation 'by experts' in their research design. With all of these developments, much is still to be discovered and understood about dance annotation ...".