Inspiring Ireland is an ambitious project to bring Ireland's cultural treasures – paintings, letters, sculpture, manuscripts, historical objects, photography, ephemera – both digital and digitised, to a broad national and international audience. Built on the Digital Repository of Ireland's preservation infrastructure, Inspiring Ireland is also positioned as the beginning of a systematic programme in preservation, access and discovery for digital objects in Ireland's GLAM sector. As the pilot version of a larger project, Inspiring Ireland delivers curated online exhibitions in a single portal, for the first time bringing together eight of Ireland's national cultural institutions in one place. A significant effort in collaboration across cultural, ICT, and governmental sectors, Inspiring Ireland has been able to demonstrate the inherent possibilities in systematic preservation and open access, and has created a communications network for future collaborations and advocacy in the broader realm of digital preservation.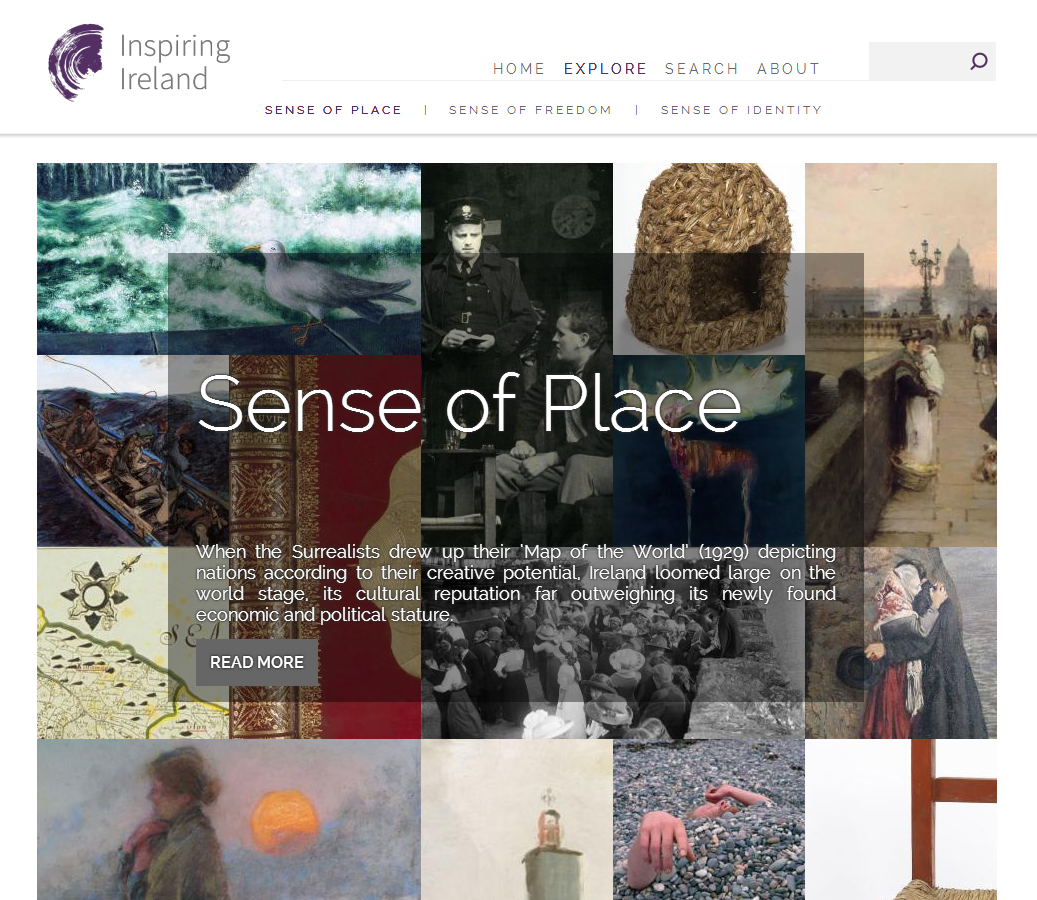 Ireland's National Cultural Institutions are the custodians of beautiful and fascinating objects from Ireland's – and indeed the world's – past and present. Inspiring Ireland showcases these treasures to the world, through an interactive, online, curated website that illustrates high quality digital images of the objects, with interpretation provided by experts from the cultural institutions, and an introductory narrative written by one of the foremost scholars of Irish culture and history, Professor Luke Gibbons.
Developed as a collaboration between eight of Ireland's National Cultural Institutions (Abbey Theatre, Chester Beatty Library, Crawford Art Gallery Cork, Irish Museum of Modern Art, National Museum of Ireland, National Archives of Ireland, National Gallery of Ireland, National Library of Ireland), the Irish Government's Department of Arts, Heritage and the Gaeltacht (DAHG), and the national Digital Repository of Ireland, Inspiring Ireland opens Ireland's cultural heritage to a wider viewership, allowing visitors to access rich images and contextual information. But just as importantly, it has created educational and collaboration pathways between these major stakeholders, directly addressing and solving problems in areas of central concern to digital preservation, such as metadata standards, interoperability, preservation and access formats, copyright and licensing, API access, multi-institution digital curation, and so on.
The pilot project was launched by Minister Jimmy Deenihan (Department of Arts, Heritage and the Gaeltacht) to coincide with St. Patrick's Day (March 17, 2014), and features an exhibition titled "A Sense of Place," which traces the way that "place," in the most open and creative understanding of the term, resonates through Ireland's art and artefacts. Two other collections, A Sense of Freedom and A Sense of Identity, are also populated with fully searchable objects with rich metadata. Inspiring Ireland operates as an attractive portal to these objects, but also provides long-term preservation of these objects through the Digital Repository of Ireland's preservation infrastructure; the pilot marks the first phase of what will be a much larger programme to digitise, preserve, and share Ireland's culture for public viewing, educational use and scholarly research. And just as importantly, it will allow users to discover and make personal connections with the treasures that Ireland holds in its extensive collections across all the Irish Cultural Institutions. By bringing these objects together, Inspiring Ireland opens up these compelling collections for public and scholarly enquiry - and enables an ecosystem of educational, e-tourism and creative applications.
This project was conceived, funded, built and launched - to what we believe is a high standard - in the short time-span of six months, requiring the energy and collaborative efforts of over 40 individuals across 12 independent institutions/government departments/companies. The project required extensive outreach, communication and co-operation amongst a group of individuals and institutions who have different areas of expertise, and broadly divergent interests. The project brought together curators, digital archivists, software engineers, IT professionals, art historians, librarians, brand developers, cultural historians, domain experts, metadata cataloguers, API developers, project managers, back-end designers, front-end designers, government advisors, institutional directors, a videographer, and more.
While collaboration is key to many projects, in this case our project provided significant on-the-ground education across domains of knowledge, where individuals from one area of expertise had to solve problems with individuals from other areas of expertise in a way that will facilitate future collaboration on digital preservation projects, because the pathways for inter-domain problem-solving have been created. For example, museum curators had to work with digital archivists and API developers to create the richest possible metadata while also being attentive to technical aspects of discovery and access; historians had to work with website designers who in turn had to learn about access rights, copyright clearance and preservation file formats. Over the project's short but intense six months, experts had to adapt to pragmatic, artistic and indeed philosophical issues that arose from other areas, and find working solutions. The output of the project was not one-way; for example, metadata that was provided by the cultural institutions was cleaned, enriched, and standardised by the DRI digital archivist in consultation with librarians from the institutions, and then provided back to those institutions for their own cataloguing or curatorial use.