Introduction
Since 1996 UNHCR has preserved critical digital information[i] about situations that have shaped our world and it continues to do so. Faced with the largest refugee crisis the world has ever seen, UNHCR has a mandate to protect some of the most vulnerable in our global society – refugees, the internally displaced and stateless. This includes the preservation of its records and archives.
[i] In 1996 UNHCR RAS started to preserve email
Significance of objects preserved
UNHCR is a humanitarian organization whose priority is the protection of people. Its archive holds 70 years of history and now, faced with the digital age, the challenge of preserving this unique digital legacy in terms of scale and complexity is unparalleled.
Extent to which the public would understand the importance of the objects preserved
Preserving the digital legacy of UNHCR is the protection of the legacy of humanity. The digital content selected for preservation is testament to the work of UNHCR and a record of the victims of emergencies, for now and generations to come.
Clear understanding of the risks that the digital objects face
Capture can be challenging due to the complexity and the speed at which UNHCR operates in some of the most dangerous places in the world. UNHCR's digital content is highly valued, but often for its primary value due to the rapidity of response needed for emergencies and operations in the field. Also, a continual staff rotation policy is challenging for information management. It is often an early adopter of new technologies, often challenging to preserve.
Effectiveness of the methodology used or developed
Digital preservation is a holistic process. It requires a combination of skills and resources. RAS has adopted best practical preservation strategies but foremost it adheres to the following:
Capture of the digital legacy starts at the point of creation through life cycle management.
Good records management results in a good digital archive.
Preservation is not enough, use and access must be considered.
Field operations, being the heart of UNHCR work, must be engaged in RAS work through the work of Records Managers.
UNHCR Digital Preservation Project started 2014 and in 2020 consists of:
eSAFE EDRMS Open Text Content Server in field and HQ (20 years)
Web Archiving Programme – ISO compliant/First in the UN/Allowing replay and access
Perpetua Digital preservation system (DPS) (Arkivum) - first to use an Open Source solution meeting OAIS standards plus pre ingest workflows
ADLIB cataloguing database for both digital and paper content to record metadata.
Records Management is critical for good digital preservation. UNHCR RAS has worked tirelessly and effectively over the last 20 years both in the field and HQ to capture information created in the course of UNHCR's work.
UNHCR Lifecycle Management: Diagram A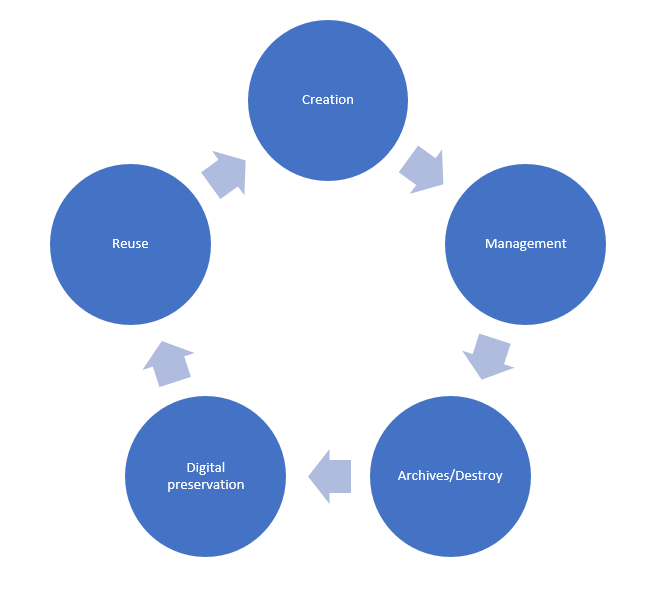 Collaboration and partnership
Collaboration and partnership are key both internally and externally, as RAS is competing for resources in a large humanitarian organization.
Diagram B: UNHCR partnership and collaboration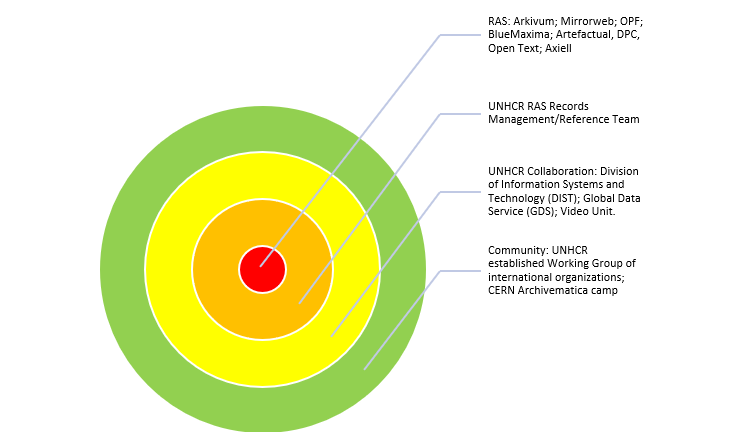 Preservation of UNHCR digital legacy
The following programmes/projects are submitted as entries. The acronyms (indicated below) indicate the internal partnership in UNHCR Records and Archives:
Enterprise document management system (Livelink/eSAFE) (Open Text) Initiated in 2000, in first HQ and then the Field. It holds c. 15 TB of data and 7,000 formats and is a key system for the Digital Preservation Solution (DPS). RAS POC exported selected data and metadata from the EDRMS in 2019 for ingest to DPS. (DPT/RM)
Arkivum Digital Preservation System – Perpetua (DPS) with Arkivum. 5TB +. Development work includes email preservation and hierarchical data and metadata representation. Complete 2019/Ongoing. (DPT,RT)
Email preservation: UNHCR started preserving e-mails in 1996, the newly created Records and Archives Section issued an e-mail policy declaring e-mail as the record and putting in place a system of archives mail boxes that captured emails. (DPT/RT)
Ontime application. Capture of a legacy daily agenda planner for the previous High Commissioners of UNHCR. Completed 2020. (RMT/DPT/RT)
Web Archiving, intranet and Social media archiving - 6 Terabytes of UNHCR's web estate, started with capture of front end of UNHCR operational Data Portal. Captures decommissioned sites with Mirror Web (Access via ADLIB catalogue and the webarchive portal) https://webarchive.archive.unhcr.org/. UNHCR also uses Web Recorder and other mechanisms to capture Facebook and Instagram. (DPT/RT/RMT)
Against all the Odds Video Game Online game recreating the refugee experience from beginning to end. Flash player no longer supported. Done using web archiving, in house expertise and community support. 2019- 2020. (DPT/RMT)
Ongoing: UNHCR Video. Capture and preserve UNHCR Video collection using AWS technologies and DPS (from 2014-present day). Began 2019 due to complete end of 2020. (DPT/VU). Currently at 52TB.
Ongoing: Telling the Real Story https://www.tellingtherealstory.org/en/ A powerful story telling project between displaced people. Web Archiving plus DPS solution. Web sites and audio-visual material. 2020 ongoing. (RMT/DPT/RT)
Key:
Records Management team = RMT
Reference team = RT
Digital preservation team = DPT
Video Unit = VU
Clarity and practicality of benefits delivered.
Our model for preservation and access is simple, we use clear practical solutions for each stage of the lifecycle to ensure that the digital content is safe using standards for both preservation and metadata.
Durability (or expected durability) of actions.
Through partnership RAS has built durable solutions using standards for preservation and access, bringing the concept of sustainability to the UNHCR workspace in many forms; through records management; work with Global Data Service; web archiving; and digital preservation solutions. In addition a commitment by the organization to resource this relatively new endeavor.
Cost effectiveness.
Our organization has many competing priorities, but its principle aim is the protection of refugees and the displaced. Digital preservation must always try to be cost effective and supportive of the mandate and this has been born out through the rigorous project management and budget for each approach taken.