The SPRUCE Project was a two year collaboration between the University of Leeds, the British Library, the Digital Preservation Coalition, the London School of Economics and the Open Planets Foundation. SPRUCE was funded by Jisc with the aim of supporting digital preservation activity and making that activity sustainable. The project was primarily focused on supporting grass roots preservation activity, by connecting individuals responsible for managing digital data with domain experts, technical experts and a supportive community of peers.
SPRUCE applied a community oriented approach to delivering support for digital preservation. It did this by working closely with those at the coal face of digital preservation. It supported over 100 of these practitioners from archives, libraries, museums and commercial organisations and helped them tackle challenges with sustaining their digital assets. SPRUCE achieved these results by running face to face and online events, enhancing software tools, creating information registries and by producing a comprehensive guide to making the case for funding digital preservation.
Mash-up and hack-a-thon events were at the core of SPRUCE's work to solve practical digital preservation challenges. These events brought together practitioners (who contribute digital data and preservation challenges) and developers (who apply tools to solve the practitioners' challenges). They supported expert attendees in expanding their understanding and tackling complex challenges, and helped staff from organizations taking their first steps in digital preservation activity. These events provided the main focus of the SPRUCE Project and enabled the targeting of additional supporting activities onto clearly identified practitioner and user needs. Requirements, approaches, software tools and other information gathered during the events were captured and shared, forming an invaluable knowledge base for others working with the same challenges. Writing in code4lib journal, SPRUCE mash-up attendee Edward Corrado stated: "Overall I found this to be an excellent event and I would encourage people that have real-world problems to solve relating to digital preservation or are developers that can solve some of these types of problems to participate in future SPRUCE Digital Preservation mash-ups or similar events (http://journal.code4lib.org/articles/8004" style="margin: 0px; padding: 0px 16px 0px 0px; position: relative; background: url("/../images/icons/external.gif") right -1px no-repeat;">http://journal.code4lib.org/articles/8004)."
In addition to the face to face events, SPRUCE provided a variety of contributions to an array of online collaborative initiatives that aimed to develop better supporting resources for preservation practitioners while encouraging community and collaborative working. A number of these initiatives were quite experimental by their nature, including techniques such as crowd sourcing and the delivery of collaborative events via online tools. The results of these approaches were (as expected) mixed. Some were unsuccessful but most were both ground-breaking and delivered strong results. An example is the COPTR digital preservation tools registry. COPTR helps practitioners find the software tools they need to solve their preservation challenges. Its coverage goes way beyond existing resources of this kind, providing details of almost 380 tools.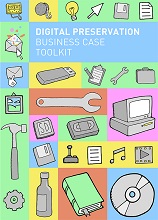 SPRUCE created the Digital Preservation Business Case Toolkit (DPBCT) which built on a wealth of results from a series of exercises conducted with practitioners during the mash-up events, as well as lengthy research and literature search. Rather than writing up this work in typical fashion and then circulating the report for comment, SPRUCE organised a 3 day sprint event in which 13 people co-authored the toolkit on a wiki. This innovative approach enabled the maximum input and refinement of the toolkit by the informed experts at the sprint. The result is an incredibly detailed and comprehensive guide that helps practitioners to make the case for funding their digital preservation work - not always an easy task but one that is essential if our digital history is to survive on into the future.
Key outputs from the SPRUCE Project:
All other outputs are described in detail on the SPRUCE Project wiki.