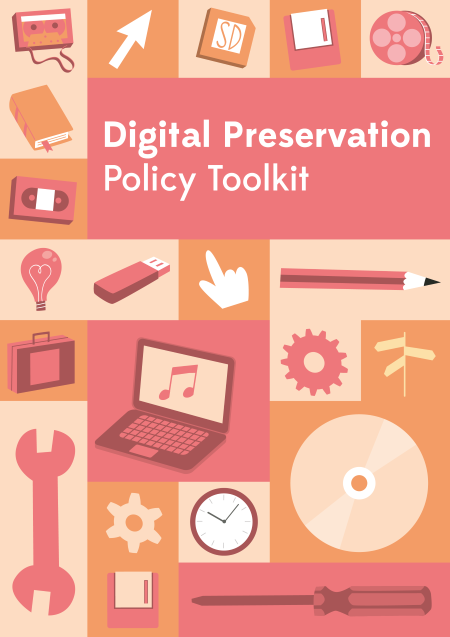 This Toolkit provides information to assist in the construction of a digital preservation policy. It will help guide you from initial research and preparation phases, to drafting your policy, gathering feedback and, finally, polishing and communicating the finished policy.
This Toolkit is for anyone who would like to create a policy focused on digital preservation. It is targeted at all those working with digital content who have chosen to, or are required to, create a policy to support digital preservation activities.
There is no one-size-fits-all formula for writing a digital preservation policy. How you write your policy will depend on your own context and will need to take account of the intended audience and purpose, the drivers within your organization and its digital preservation maturity. This Toolkit seeks to guide you through a process which will help you to understand this organizational context, and then communicate a policy that is fully relevant to it.
This Toolkit builds on the work of numerous members of the digital preservation community and brings together many good examples of digital preservation policy. Our thanks go to all those who make their preservation policies publicly available - we can all learn from seeing how others have tackled this challenge.
An overview and introduction to preservation policies and this toolkit.
Use this to find out more about the toolkit and how to apply it.

Experience pooled from within the DPC on what makes a good (and bad) policy.
Use this to set off in the right direction for creating your new policy.

A step by step guide to the researching, drafting, establishing and sustaining a preservation policy.
Use this to plan out how you will develop and establish your new policy.

A detailed guide for building a preservation policy, with numerous references to existing policies.
Use this to establish the structure of your policy and to guide the development of its content.

Information to guide future work on keeping your policy current and relevant.
Use this to find out how to keep your preservation policy up-to-date.

An exemplar policy that was developed alongside this Toolkit, and a details of how it was created.
Use this to learn from the experiences of another organisation.

A list of additional guidance materials relating to preservation policies.
Use this as a reference point for further reading on the subject.
This is version 2 of the Digital Preservation Policy Toolkit (released March 2023). The initial creation of this toolkit was a collaborative exercise involving a booksprint and many enthusiastic individuals. Thank you to all of those who were involved! Read more and find out about how the toolkit was created here.
Do contact us with comments and feedback to help us improve this toolkit.