In this issue:
What's New is a joint publication of the DPC and DCC
---
What's On
The DCC have a number of events coming up that may be of interest to you. For further details on any of these, please see our DCC events listings at http://www.dcc.ac.uk/events/. You can also browse through our DCC events calendar to see a more extensive list of both DCC and external events.
IEEE International Conference on Big Data Registration is Open
6-9 October 2013
http://www.ischool.drexel.edu/bigdata/bigdata2013/
In recent years, "Big Data" has become a new ubiquitous term. Big Data is transforming science, engineering, medicine, healthcare, finance, business, and ultimately society itself. The IEEE International Conference on Big Data 2013 (IEEE BigData 2013) provides a leading forum for disseminating the latest research in Big Data Research, Development, and Application.
CASRAI Reconnect13
16-18 October 2013
http://reconnect.casrai.org/
Activities that aim to leverage knowledge discoveries and innovations with the goal of promoting general societal goods are a crucial element of complex, international research environments. While the particular knowledge and products generated through research is important for achieving this goal, such a diverse environment necessarily relies upon various kinds of infrastructure (scientific but also administrative) to enable the creative endeavors of researchers and innovators. Reconnect13 focuses on this dimension of research: the role of research administration practices and information sharing in supporting knowledge discoveries and innovations.
The International Conference on Digital Information Processing, E-Business and Cloud Computing (DIPECC2013)
23 - 25 October 2013
http://sdiwc.net/conferences/2013/dipecc2013/
The conference aims to enable researchers build connections between different digital applications. The main objective is to provide a medium for professionals, engineers, academicians, scientists, and researchers from all over the world to present the result of their research activities in the field of Computer Science, Engineering and Information Technology. DIPECC 2013 provides opportunities for the delegates to share the knowledge, ideas, innovations and problem solving techniques.
First Steps Towards Digital Preservation
23-25 October 2013
http://www.gesis.org/en/events/gesis-workshops/digital-preservation-okt2013/
The workshop is intended as a primer in digital preservation. It introduces central concepts of digital preservation, providing participants with a common terminology to understand an (idealized) preservation and dissemination workflow. DPC is offering scholarships so that members can attend at no cost.
Preservation, Trust and Continuing Access for e-Journals
30 October 2013
http://www.dpconline.org/events/details/67-eJournals-Oct-2013?xref=73
The Digital Preservation Coalition invites members and guests to a briefing on Preservation, Trust and Continuing Access to E-Journals at which a new technology watch report will be launched.
Getting Started in Digital Preservation
1st Novemnber 2013
http://www.dpconline.org/events/details/66-getting-started-in-digital-preservation-extra-stop-in-dublin?xref=72
This day-long introduction assumes no prior knowledge except a willingness to engage with digital preservation. Through a series of presentations, case studies and exercises, participants will learn how to apply techniques of assessment, risk management and planning to help secure their digital collections.
Digital Preservation Without Tears: A joint OPF/DPC Mash-up
6-8 November 2013
http://www.dpconline.org/events/details/68-digital-preservation-without-tears-a-dpc-and-opf-mash-up?xref=74%3Adigital-preservation-without-tears-a-dpc-and-opf-mash-up
For several years, OPF and DPC have been working together to foster the capacity for digital preservation among our members, whether in the form of practical tools, organisational policy or applied skills.  This no-nonsense approach has taken explicit form in the Jisc-funded SPRUCE project co-ordinated by Paul Wheatley at the University of Leeds.  The SPRUCE project is nearing its completion but the need for co-ordinated action remains: so the DPC and OPF have recently committed to sponsoring at least one joint practical event each year.
ICT 2013 - Create, Connect, Grow
6-8 November 2013
http://ec.europa.eu/digital-agenda/ict-2013
More than 4000 researchers, innovators, entrepreneurs, industry representatives, young people and politicians are expected in Vilnius. The event will focus on Horizon 2020 - the EU's Framework Programme for Research and Innovation for 2014-2020.
Aligning National Approaches to Digital Preservation II: An Action Assembly
18-20 November 2013
http://educopia.org/events/ANADPII
Building upon the successes of the 2011 ANADP Conference in Estonia, this event will assemble digital preservation leaders from a variety of backgrounds (including national libraries, academic libraries and archives, research centres, public libraries, information science/management programs, archives, corporations, and funding agencies) to carry out international alignment activities to support the preservation of our collective digital memory.
Digital Preservation Training Programme
25-27 November 2013
http://www.dptp.org/
Digital Preservation Training Programme (DPTP) is designed for all those working in institutional information management who are grappling with fundamental issues of digital preservation. It provides the skills and knowledge necessary for institutions to combine organisational and technological perspectives and devise an appropriate response to the challenges that digital preservation needs present. DPTP is operated and organised by the University of London Computer Centre with contributions from invited experts. It is supported by the Digital Preservation Coalition which originally helped to establish the course in 2005. Scholarships are available from the DPC to attend this course.
How to Set Up and Run a Data Service: The Exeprience of the Social Sciences
28-29 November 2013
http://www.data-archive.ac.uk/news-events/events.aspx?id=3543
'How to Set up and run a Data Service: the Challenges of Social Science Data' is a once-a-year opportunity for data archivists to go behind the scenes and learn first-hand from specialists at the UK Data Archive. Over two days, participants will learn about the strategies and practices used in the Archive's daily work, with a focus on storing and sharing social science data, including microdata, aggregate, qualitative and historical data. The Archive has over 40 years of experience in selecting, ingesting, curating and providing access to data. We are a designated Place of Deposit for The National Archives and are internationally acknowledged experts in this field.
DPC Annual General Meeting
5th December 2013
All members are invited to the DPC's 11th annual general meeting hosted by the National Records of Scotland, Edinburgh.
APA International Conference on Digital Preservation and Development of Trusted Digital Repositories
5-6 February 2014
http://www.ndpp.in/APA-DPDTR-2014/
The Centre of Excellence for Digital Preservation, C-DAC, India and Alliance for Permanent Access (APA), EU are pleased to announce the APA International Conference on Digital Preservation and Development of Trusted Digital Repositories to be held at New Delhi, India.
9th International Digital Curation Conference (IDCC)
24 - 27 February 2014
http://www.dcc.ac.uk/events/idcc14
The 9th International Digital Curation Conference (IDCC) will be held from Monday 24 February to Thursday 27 February 2014 in San Francisco. IDCC14 will be organised by the Digital Curation Centre UK in partnership with the University of California Curation Center (UC3) at the California Digital Library and the Coalition for Networked Information (CNI).This year the IDCC will focus on how data-driven developments are changing the world around us, recognising that the growing volume and complexity of data provides institutions, researchers, businesses and communities with a range of exciting opportunities and challenges.
Jisc Digital Festival 2014
11-12 March 2014
http://www.jisc.ac.uk/events/jisc-digital-festival-2014-11-mar-2014
After a two year break, the Jisc conference will return in 2014 in a new guise as the Jisc Digital Festival. The festival will be innovative, informative and fun, showcasing and celebrating the very best in UK digital talent by bringing together experts and providers from the higher education, further education and skills sectors to share ideas and best practice.
---
What's New
For more information on any of the items below, please visit the DCC website at http://www.dcc.ac.uk.
Seven Rules of Successful Research Data Management in Universities
http://www.theguardian.com/higher-education-network/blog/2013/jul/16/research-data-management-top-tips
Guardian Higher Education Network Blog post offering 'Seven rules of successful research data management in universities' by Sarah Jones, DCC and Simon Hodson, Jisc.
LoC Newsletter
http://www.digitalpreservation.gov/news/newsletter/201309.pdf
The September 2013 Digital Preservation Newsletter is now available.
Research Data Management and REF2014 - new guidelines from the Research360 project
http://opus.bath.ac.uk/35518/
The Research360 project is pleased to announce the public release of its guidance document /Research Data Management and REF2014/, prepared by staff at the University of Bath and Charles Beagrie Ltd. It is being disseminated and shared with the research community in Bath and other universities.
ORCID awarded grant from Alfred P. Sloan Foundation
https://orcid.org/content/rfp-2013-06-orcid-id-adoption-and-integration-program
ORCID announces a new project aimed at encouraging the adoption and integration of persistent researcher identifiers by research universities and scientific and social science professional associations. Funded by the Alfred P. Sloan Foundation, this project will provide external funding and personalized outreach and technical support to participating organizations. The goal of this program is to catalyze broader community adoption by standardizing and streamlining the ORCID identifier integration process, collecting and documenting use cases, developing open source code samples, and providing case studies of working integrations. The program will disseminate use cases and integration best practices through an Outreach meeting and CodeFest, to be held in Chicago in May 2014.
New report on open research data
http://www.researchinfonet.org/infolit/ridls/strand5/
On behalf of the Research Information and Digital Literacies Coalition (RIDLs), the Research Information Network has published the conclusions of a study that examines the means that are, or ought to be, deployed to help researchers acquire the knowledge, confidence and ability for them to ensure the greatest possible openness with the research data that they create. The report, entitled 'Helping to open up: improving knowledge, capability and confidence in making research data more open', supports the goal of realising an open data culture, as described notably in the Royal Society's 2012 report on Science as an open enterprise. The report stresses the importance of ensuring that open data – with all the opportunities, risks, benefits and practices that it entails – should be more strongly integrated with training and support for research data management.
GCI Digital Media: BT Digital Archives
http://www.coventry.ac.uk/research/grand-challenge-initiatives/grand-challenge-initiatives-digital-media/projects/bt-digital-archive/
Jisc, who provide digital services for UK education and research, funded Coventry University to team up with BT and The National Archives to create a searchable digital resource of almost half a million photographs, reports and items of correspondence preserved by BT since 1846. The remarkable collection – which is recognised by UNESCO and Arts Council England as being of international importance – showcases Britain's pioneering role in the development of telecommunications and the impact of the technology on society, and will be freely available under a Creative Commons licence to encourage sharing and the use of the material in education curricula and research.
HMRC consultation - Sharing and publishing data for public benefit
https://www.gov.uk/government/consultations/sharing-and-publishing-data-for-public-benefit
HMRC seeks views for the department to share non identifiable information for the creation of general, aggregate and anonymised datasets, and on proposed safeguards. The consultation also covers the potential benefits, costs / risks and necessary safeguards for proposals to share VAT registration data, either publicly or under controlled conditions for specified purposes, for example, credit rating.
---
What's What - Make a date with DPC: Full programme for 2013-2014 is unveiled
Sarah Norris, Senior Project Officer, Digital Preservation Coalition
'Writing a Digital Preservation Business Case,' 'Talking with the Techies' and 'Cost Modelling for Preservation' are just part of the list of events which form part of the Digital Preservation Coalition's (DPC) bumper prospectus which has now been officially unveiled. Events will take place at locations across the UK and Ireland throughout 2013 – 2014.
This year's first event is close at hand, scheduled for Wednesday 30th October at the RIBA Headquarters at 66 Portland Place in London. The half day seminar on 'Preservation, Trust and Continuing Access for E-Journals' will introduce and examine latest developments in the preservation of e-journal content, and explore the extent to which the e-Journal community has genuinely solved the 'trust question' for digital preservation services.
The programme of fifteen events is approved and overseen by full members who commission thematic events tied directly to their own needs. These events not only serve as a means to support the Digital Preservation Coalition's commitment to Knowledge Exchange in strategically important areas of technology development, but are also the place to mingle with all the movers and shakers in digital preservation!
The ever popular Technology Watch Reports also have a superb line up of investigations into the latest topical and technical issues. Having published five in the last 12 months, we are 'upping the ante' again, with another seven reports planned for the coming year. Scheduled and overseen by full members who commission research tied directly to their strategic needs, titles including 'Preserving E-Books' 'Intellectual Property Rights and Preservation,' 'Preserving E-journal Content,' as well as an update to 'OAIS - ISO 14720' add to the list of publications due for release in 2013 - 2014. Speaking of which, keep your eyes peeled for the next report on 'Preservation, Trust and Continuing Access for E-Journals' which is due for release at the seminar of the same name on 30th October: http://www.dpconline.org/publications
Our already bursting programme of thematic invitational events and specialist publications are further complemented by more meetings of our member-only Task Forces and working parties which provide independently moderated spaces where members can discuss, debate and resolve issues on highly targeted topics in an informal and – as the need arises – confidential way.
But that's not all, our new online collaboration platform is now up and running and a monthly members-only webinar series is planned which will showcase members' projects and achievements. We will also use our new technology to record and stream live events for members who can't make it on the day.
And if that was not quite enough, we will be running our Leadership Programme again in 2013 – 2014, as well as offering scholarships for other training programmes. Up first is the 'First Steps towards Digital Preservation' with GESIS at the Leibniz Institute for the Social Sciences in Cologne, on 23rd – 25th October 2013. We are pleased to offer two fully-funded scholarships so that members can attend the workshop, which is taught in English, and intended as a primer in digital preservation.
At the DPC we believe we are 'greater than the sum of our parts,' and so we are keen to make our programme of activities available to all, on the basis that 'more is… more informed, and merrier of course!' However, members will still get priority registration either for free or with a large subsidy. Non-members will be invited once our members have registered and if additional sponsorship is available. Members also get priority access to publications through the members-only area of the website. This is designed to provide an advantage when writing their own research, drafting policy or procuring services.
If you are not already a DPC member, find more information about joining the community and availing yourself of member benefits on our website: http://www.dpconline.org/members/join-us
Announcements with registration details of each event are made one month in advance, so watch the website for more details, and we look forward to seeing you at a DPC event soon: http://www.dpconline.org/events
---
Who's Who - A 60 Second Interview with Tom Ensom, UK Data Archive
Where do you work and what's your job title?
I work at the UK Data Archive, and my job title (on paper!) is "Producer Relations and Research Data Senior Officer". Essentially I do lots of different things around research data management, sharing, and preservation.
Tell us a bit about your organisation
The UK Data Archive curates the largest collection of digital data in the social sciences and humanities in the UK. We are an ESRC data centre and manage the UK Data Service. We've been around for a long time now (over 40 years), and disseminate several thousand datasets to a large user base. As well as the actual archiving of data, we support and train both data producers and potential re-users.
What projects are you working on at the moment?
I've recently finished up work on a project that was piloting a research data infrastructure at the University of Essex. An output of this that I'm really proud of is a plugin for the repository software EPrints, called ReCollect. This plugin transforms software that was originally intended to host a publications repository, into something more suitable for research data. Now that this is wrapped I'm moving onto other projects, including the creation of training materials based on our popular 'How to set up and run a data service' workshops. Along with almost everyone else here, I'm also contributing to the development of a new repository system for the UK Data Archive. Needless to say this is a fairly big undertaking! Recently I've been getting to grips with using business process notation to model our activities.
How did you end up in digital preservation?
I'm a biologist by training funnily enough, and had specialised in biological taxonomy in a museum environment. Classification and preservation - not so far removed from what I do now I guess! I've always had a strong interest in the digital, particularly in how technology can enhance and accelerate science. An opportunity arose to work with environmental data at the UK Data Archive, and since then it's been a short but windy road through various aspects of digital curation.
What are the challenges of digital preservation for an organisation such as yours?
The challenges come in managing and maintaining the complex processes go on in a large archive such as ours, particularly keeping up to date as technology moves forward with ever increasing speed. This is a pretty mammoth task really – we have a very large collection, and a large team of experts supporting it.
What sort of partnerships would you like to develop?
It's going to be really important for us to engage with the evolving research repository landscape. We'll need strong links with institutional repositories and other data centres as we move forward. A particular interest of mine is linked open data, and this is something that I think will continue to grow and gain interest from researchers. Disseminating data in this way is something we will be looking at. This will almost certainly necessitate close collaboration with research institutions, engaging with researchers as they are producing data, rather than after. A full lifecycle approach.
If we could invent one tool or service that would help you, what would it be?
Powerful ingest tools for describing large numbers of files with detailed metadata. A real obstacle to having good metadata at the file level, when dealing with complex data collections, is that it's extremely time-consuming to add this information to individual files one by one when you have very large numbers of them.
A bit further into the realms of fantasy, would be some kind of ultimate metadata crosswalk with an API. This would bring together all recognised standards, allow you to pick and choose elements, carry out compliance checking, and always maintain references to persistent definitions. That really appeals to the metadata freak in me. The good news is that this is totally possible with current technology; the bad news that it would require a lot of coordination to pull off!
And if you could give people one piece of advice about digital preservation ....?
Something that I'm quite preoccupied with (along with lots of other data nerds) is the notion of making everything machine interpretable. For example, if a specification of a file format is available, then a machine can be used to decode a file in that format. If your metadata is presented in a structured, semantically meaningful way, rather than as a chunk of plain text, then a machine can reason its meaning and do things with it. I guess this is fundamentally what digital preservation is all about, and I find it's beneficial to always think about problems with this in the back of your mind. Plus you can say cool sounding things about your job like "I'm futureproofing for Earth's machine run future".
If you could save for perpetuity just one digital file, what would it be?
It's so hard to choose just one… but perhaps appropriate would be a PDF (valid PDF/A of course!) version of the Jorge Louis Borges short story, The Library of Babel. If you work with information and haven't read this, I'd highly recommend! As a more 'digitally native' alternative (and a bit of a cop-out because it would really consist of many files) I'd choose a compressed archive of the Second Life virtual world. I don't think any of us have realised the significance of virtual worlds as cultural artifacts yet, and they are going to be a massive preservation challenge.
Finally, where can we contact you or find out about your work?
You can get in touch with me via email (This email address is being protected from spambots. You need JavaScript enabled to view it.), and you can find out more about mine and colleagues work on the UK Data Archive (http://www.data-archive.ac.uk/) and UK Data Service (http://ukdataservice.ac.uk/) websites.
---
iPRES 2013 - DPC Highlights
This year iPRES was hosted by the Instituto Superior Técnico in Lisbon from 2nd-6th September and happened in coordination with the DC-2013 conference. Starting with tutorials on the Monday before moving on to Conference proper and finishing up the week with a variety of workshops, there was plenty of interesting sessions to spark the interest of attendees. DPC staff attended sessions across the week and here we bring you some of our impressions of what was a very successful event:
From William Kilbride:
This was my first iPres for a couple of years and I was interested to know what might have changed. My concern at previous conferences was what appeared like an over-emphasis on refined and clever research papers which lacked real-world application, either because the tools and technologies which they elucidated would not scale, or the topics that they addressed were so narrowly defined as to lack extensibility. I'm pleased to say that iPres surprised me in a couple of ways.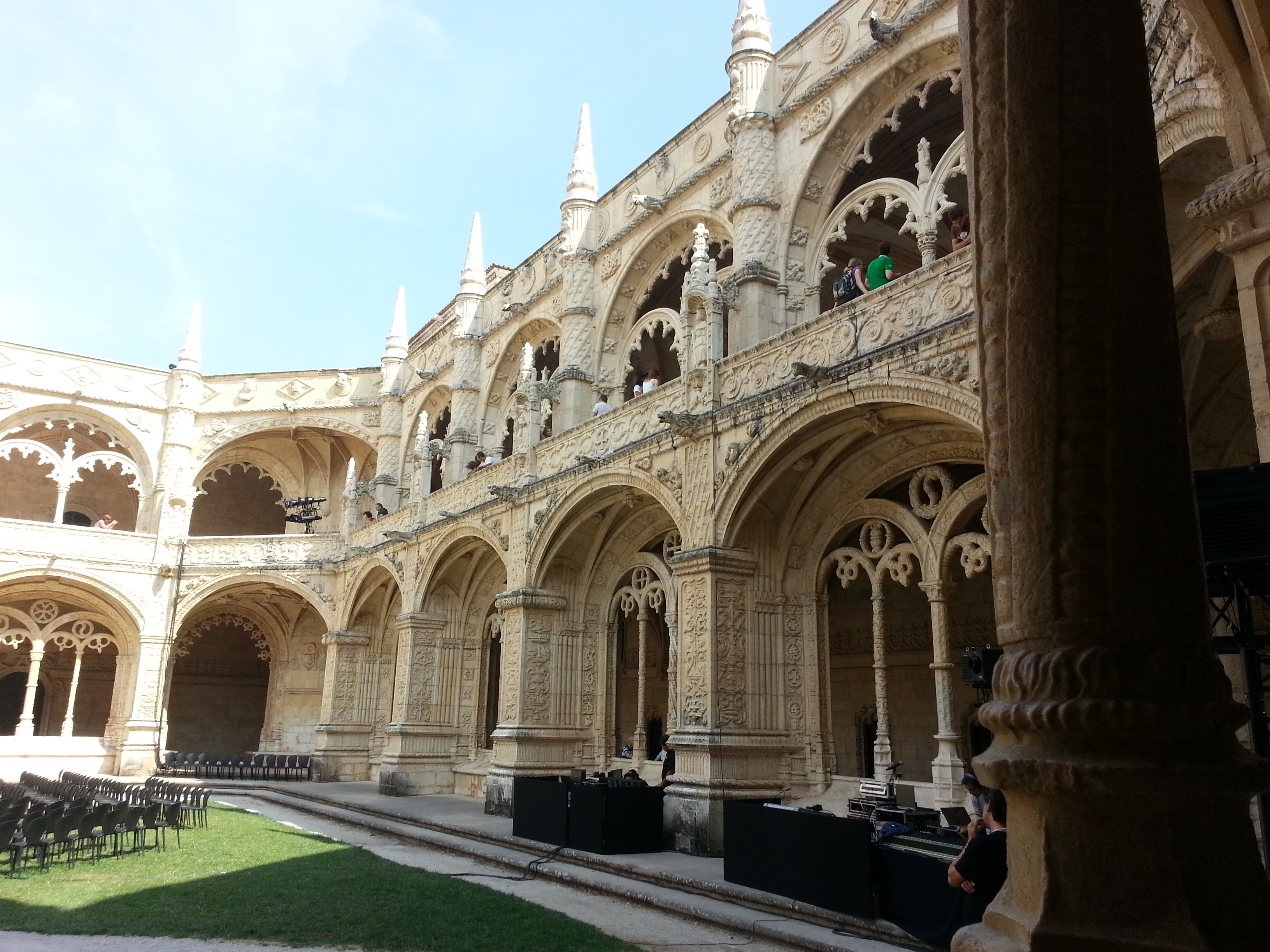 The conference was bracketed by two simple lessons about data loss, the first born of clumsiness the second of malice. Early in the conference a memory stick containing various notes and working papers fell from my jacket, skated across the floor and dropped into an air-conditioning vent. Thankfully the cover of the air vent was loose and the stick was in view, so the rescue operation required nothing more than a long reach and a settled disregard for spiders and grime. I should also note that everything on the stick was also on the laptop so no bits would have been harmed. But the irony was not lost – at a conference on digital preservation the Executive Director of the DPC, proudly sporting a 'save the bits' badge was down on his hands a knees trying to recover his usb from a previously unimagined oblivion of dust, grot and beasties. More worrisome, I spent a chunk of the last evening of the conference with the Lisbon police. We had just settled down to review of the day's proceedings over dinner when a group of (highly practiced) pick pockets grabbed a colleague's mobile phone. All were gone before we noticed and, given the requirements of disclosure and insurances we decided to file a report (and special thanks to Luis Faria of Keep for helping us over the language barrier). It was a formality: I suspect that handset will not be recovered. So whether understood through the gentle whimsy of a lost USB, or the heart-in-mouth panic of a stolen phone, the practical fragility of our digital lives was more evident than I had expected.
What papers made the most impression on me? In the round I was delighted that the conference seems to have matured in recent years. It was a lot bigger than I remember – presumably because it was shared with the DC conference – and this seems to have brought a broader mix of participants which is refreshing. The conference has moved more confidently into practical problem solving: such as Andrew Lindley's bake-off between SIARD and CHRONOS for database preservation. It has begun to deal with issues of scale: as witnessed Tom Heritage's workflow for video-tape migration. Making good on the promise of collaboration remains a strong theme whether in practice or policy: such as Eld Zierau's presentation of distributed preservation or the APARSEN roundtable. The conference programme also recognised that digital preservation is as much a cultural and organisational problem as technical: such as the 4C workshop on costs. These elements all stood out as somehow different from previous iPres conferences. If I could put these topics together into one paper I would single out Sharon Webb and Aileen O'Connor's presentation on the user needs survey that underpins the planning at the Digital Repository of Ireland. What's impressive is the time they've spent listening to users and trying to understand their needs. It's evidence of the best sort of digital preservation practice which is deigned fundamentally for people rather than for data. That means they've invested time in the relationships that are going to be necessary for the sort of joined up, distributed but working digital preservation infrastructure that we need to make sure our digital memory is not lost, whimsy and malice notwithstanding.
From Sharon McMeekin:
An obvious highlight for me was the opportunity to participate in the APARSEN panel session 'Building Blocks for a Common Vision on Digital Preservation'. It's always interesting to share our work with new audiences and the discussion at this session helped me gain some new insights on our research into digital preservation training. Some of the conclusions from this discussion will now be informing our work moving forward.
I also particularly enjoyed the keynote presentations from this year, from Gildas Illien's amusing look at the issues we face and how digital preservation specialists and bibliographic staff from the BnF must work together to achieve common goals, and also the insights provided by Carlos Morais Pires into the EC's upcoming Horizon 2020 programme. Paul Bertone's presentation on information storage in DNA showed us a reality I would previously have written off as a science fiction that belonged on Star Trek. The possibilities presented were endless and it will be exciting to see if this form of storage ever becomes a workable reality.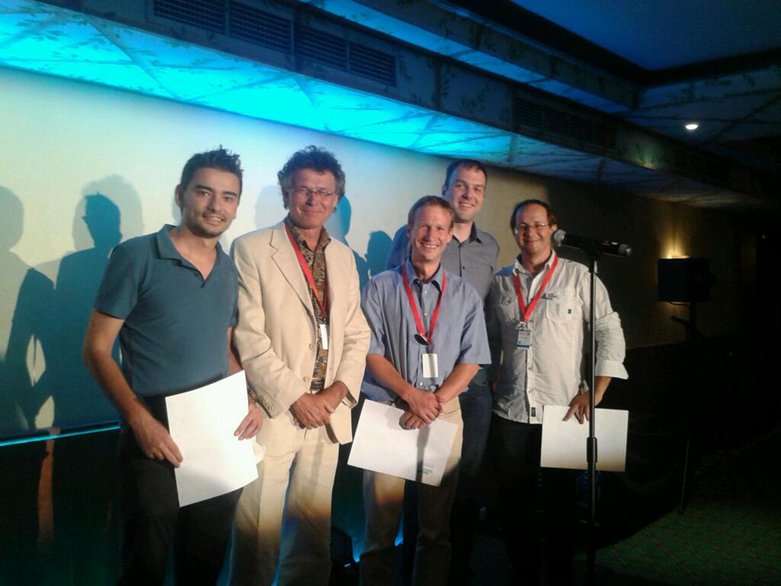 From Angela Dappert:
One of my highlights of this year's iPRES was the Monday afternoon tutorial offered by the TIMBUS and Wf4Ever projects, 'From Preserving Data to Preserving Research: Curation of Process and Context'. In the domain of eScience, investigations are increasingly collaborative. This raises the need for preserving and sharing entire eScience workflows and processes for later reuse. This includes and goes beyond preserving the data used in the experiments, as the process underlying its creation and use is essential. At the tutorial the TIMBUS project introduced its methodology for describing the research context and discovering software and hardware dependencies as well as also giving an introduction to data citation, which is an essential part of research preservation. The Wf4Ever project introduced its approach for managing Research Objects for automated workflows and demo'ed their toolkit for assembling the components that describe them. The SCAPE project also introduced its approach for preserving research representation information. The event was well attended and resulted in very lively discussions.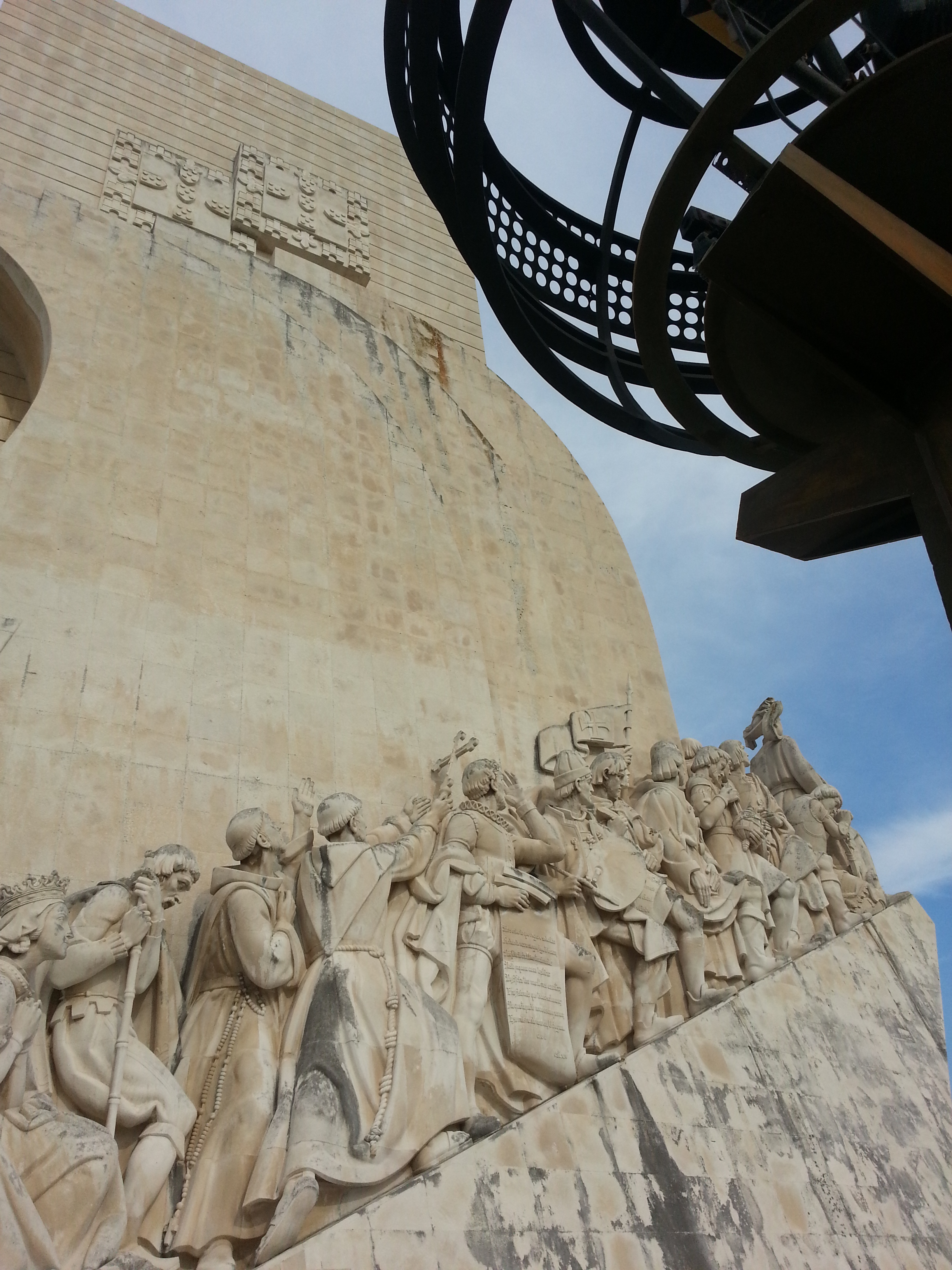 I was also pleased to see that in addition to the training event, there were five papers given by the TIMBUS project, one of which, 'Digital Preservation of a Process and its Application to e-Science Experiments' by Stephan Strodl, Rudolf Mayer, Gonçalo Antunes, Daniel Draws and Andreas Rauber, received the iPres 2013 Best Paper Award.
Another highlight was the annual user group meeting from the PREMIS Editorial Committee on the Thursday afternoon, at which the PREMIS Environment Working Group presented a proposed solution for capturing digital environment information, including software and hardware dependencies, documentation and rights dependencies in the next version of the PREMIS Data Dictionary, to which the TIMBUS project had contributed extensively.
From Sarah Norris:
Joining the conference late in the week, my highlights from iPRES were the 4C Workshop and Focus Group. They were a great opportunity to meet some of our stakeholders face to face and get some first-hand feedback on our work to date. All of the workshop outcomes are on the 4C website now at http://www.4cproject.eu/community-resources/ipres-workshop, and we hope to build on these to create a better understanding of digital curation costs by providing useful, useable resources which support the process of cost management in digital curation.
Congratulations also go to 4C for picking up the best poster prize for iPRES 2013, especially given the strong competition present.
---
Who's hiring: the Digital Preservation Small Ads
University of Glasgow: Lecturer/Senior Lecturer in Information Studies
(Glasgow, Permanent, Full-time, Salary: 47,314 - 53,233 GBP, Closing Date: 20th October 2013) The Humanities Advanced Technology and Information Institute at the University of Glasgow is building on its innovative research and teaching program in information management and data curation. We seek a creative, forward-thinking leader to join our team and work collectively to catalyze this growth.
See: http://www.dpconline.org/newsroom/vacancies/1078-vacancy-at-glasgow-university-senior-lecture.
Open Planets Foundation: Executive Director
(Location negotiable, Permanent, Full-Time, Salary: from 45,000GBP pa, Closing Date 21 October 2013) The Open Planets Foundation is inviting applications for the position of Executive Director. The successful candidate will ideally be in post from December 2013.
See: http://www.dpconline.org/newsroom/vacancies/1077-vacancy-at-the-open-planets-foundation-executive-directot
National Library of New Zealand: Preservation Manager
(Wellington, Full Time, Permanent, Salary Band J, Closing Date 18 October) The National Library of New Zealand is looking for an experienced Digital Preservation Manager to lead its digital preservation programme. You will be responsible for the operational management of the Library's digital preservation programme. This is a formative role in the context of developing a long term digital preservation programme for the ongoing safekeeping of the Library's digital collections and New Zealand's digital patrimony.
See: http://www.dpconline.org/newsroom/vacancies/1073-vacancy-at-the-national-library-of-new-zealand-digital-preservation-manager
---