Newsroom
Vacancy at the United Nations: Information Management Officer
Information Management Officer, United Nations
Location: New York
Salary: P4
Location: New York
Closing Date: 12th January 2015
This position is located in the Department of Management (DM), Office of Central Support Services (OCSS), Archives and Records Management Section; the incumbent will report to the Section Chief.
Within delegated authority, the Information Management Officer will be responsible for the following duties:
Contributes to the formulation of overall policies, procedures, objectives and guidelines affecting the development and maintenance of the Organization's non-current records and archives and delivery of reference services, archival description and systems management within the Organisation's information management governance framework.
Conducts policy-oriented research and drafting on the applicability of information technology to records and archives using data from internal and external sources to: develop Section policies, guidelines and procedures in keeping with technological developments, e.g., strategy for long-term preservation and retrievability of electronic records.
Assesses and makes recommendations relating to the use of information management systems from an archives management perspective.
Conducts relevant research and specifications for information management technology and innovations relevant to archives management and service delivery.
Provides advisory services Organization-wide on recordkeeping practices based on needs, business process, workflow, technical architecture and information resources analysis;
makes recommendations relating to recordkeeping practices, improvement and implementation strategies, resource requirements, file plans, retention schedules and procedures for transferring records and archives to the section.
Leads engagement with all stakeholders to develop strategies for integrating records created in diverse systems into digital preservation systems and repositories; leads and manages the archival preservation programme.
Evaluates applications and cost-effectiveness of services in relation to technology options and prepares data and recommendations for decision-making.
Ensures the preservation of information assets with continuing value by appraising records according to their administrative, legal, financial and/or historical value.Manages the delivery of reference services to public and internal clients.
Ensures access to records with continuing value by managing the application of international cataloguing and indexing standards for intellectual control and retrieval; advises internal and external users regarding the use of the Section's holdings; and assures the delivery of records and/or copies.
Develops and implements policies and guidelines relating to the preservation of and access to digital archives by establishing metadata requirements;
retains schedules for incorporation into electronic recordkeeping systems; transfers, maintains security protocols; and selects standards for digitisation of finding aids and records and their electronic dissemination.
Manages information security by enforcing security-classification restrictions;
facilitates declassification reviews by liaising with records-originating offices; and ensures the physical security and safety of the Organization's records.
Carries out managerial responsibilities at the unit level relating to compliance with administrative requirements, programme planning, policy and procedure recommendations, budgeting, human resources and facilities management.
Develops client outreach strategy and programme and coordinates its implementation.
Represents the Section, as required, in departmental offices and at working groups, task forces and other fora, advocating recordkeeping and/or archives perspectives and standards.Evaluates the performance of vendors and certifies invoices, as necessary.
Guides, trains and supervises professional and general service staff in the various records information management functions.
Performs other duties as assigned.
For more information and to apply see: https://inspira.un.org/psc/UNCAREERS/EMPLOYEE/HRMS/c/UN_CUSTOMIZATIONS.UN_JOB_DETAIL.GBL?Page=UN_JOB_DETAIL&Action=A&JobOpeningId=36599&
The DPC commits to helping members develop 'Competent and responsive workforces ready to address the challenges of digital preservation.'
As part of its new Strategic Plan for 2015 – 2018 released on Monday 17th November, the DPC will help members develop competent and responsive workforces by providing skills, training and professional development.
"We will provide tangible outcomes to our members in the form of training," explains Head of Training and Development for the DPC, Sharon McMeekin. "We will also encourage the proliferation of high-quality training by others and support colleges and universities seeking to develop curricula in digital preservation too."
The DPC also aims to provide authoritative labour market intelligence for employers, students and teachers alike, enhancing the relevance of training and extending the competence of staff. In this way the Coalition hopes to become a forum for detailed and timely knowledge exchange between members for the benefit of all.
By realising its goals, the intention of the Strategic Plan is to sustain the Coalition's vision to 'make our digital memory accessible tomorrow.'
For more information about joining the DPC, visit the website and download the abridged version of the new Strategic Plan 2015 – 2018.
Our digital memory tomorrow: winners announced for the Digital Preservation Awards 2014
The winners of the prestigious Digital Preservation Awards 2014 have just been announced, at an exciting ceremony hosted by the Digital Preservation Coalition at the Wellcome Trust in London.
Created in 2004 to raise awareness about digital preservation, the Digital Preservation Awards are a prominent celebration of achievement for those people and organisations that have made significant and innovative contributions to ensuring our digital memory is accessible tomorrow.
'In its early years, the Digital Preservation Award was a niche category in the Conservation Awards', explained Laura Mitchell, chair of the DPC.  'But year on year the judges have been impressed by the increasing quality, range and number of nominations. I'm delighted to report that, once again, we have been exhilarated by the quality and number of the nominations. We have given awards to four individuals and organisations that show an incredible depth of insight and subtlety in approach to the thorny question of how to make our digital memory accessible tomorrow. '
Full list of winners
Four agencies walked away with awards for their exceptional contribution to ensuring the long-term security of digital collections:
The OPF Award for Research and Innovation presented by Ed Fay, OPF and Sandra Collins, Digital Repository of Ireland.
The University of Freiburg and partners with 'bwFLA Functional Long Term Archiving and Access.'
The bwFLA (Functional Long Term Archiving and Access) project provides distributed, scalable and cost-effective cloud-based 'emulation as a service' preservation framework. The judges were commended the project for its ability to enable convenient access to emulation technology for preservation of born-digital assets. 
The DPC Award for the Most Distinguished Student Work in Digital Preservation presented by Rachel Bruce, Jisc and Tim Gollins, The National Archives
Alasdair Bachell from the University of Glasgow with 'Game Preservation in the UK.'
Alasdair's work builds on a report of preservation practices carried out by the video games industry, and examines the video game industry's attitudes towards preservation in the UK. The judges were impressed with the recommendations for the games archival community the report provided and that the work represented such a comprehensive study of records management practices in the games industry.
The NCDD Award for Teaching and Communications presented by Marcel Ras, KB/NCDD and Ingrid Dillo, DANS.
Adrian Brown for his 'Practical Digital Preservation: a how to guide for organizations of any size.'
Based on his own experience of building operational digital preservation services in three different institutions, Adrian's book 'Practical Digital Preservation: a how-to guide for organisations of any size' provides practical guidance tailored to smaller organizations. The judges said that this resource stood out for providing smaller organisation with the confidence, tools and knowledge to develop their own digital preservation capabilities.
The DPC Award for Safeguarding the Digital Legacy presented by Maureen Pennock, British Library and Paul Wheatley.
University of Manchester for their 'Carcanet Press Email Archive.'
The University of Manchester Library holds outstanding eighteenth and nineteenth-century literary correspondence collections, relating to Samuel Johnson, Elizabeth Gaskell and others; a testament to the golden age of letter-writing. Judges were delighted with the way the Carcanet Press Email Preservation Project has ensured that some of the fruits of email's golden age are similarly safeguarded for future generations.
The contributions of nine other exceptional finalists were also marked in the ceremony introduced by Robert Kiley, Head of Digital Services at the Wellcome Library, one of the world's major resources for the study of medical history. 
DPC new Strategic Plan launched for 2015-2018
The Digital Preservation Coalition (DPC) launched its new Strategic Plan for 2015-2018 at the 4C/DPC 'Investing in Opportunity' Conference at the Wellcome Trust yesterday.
"By realising its goals, the intention of the Strategic Plan is to sustain the Coalition's vision to make our digital memory accessible tomorrow," explains William Kilbride, Chair of the DPC.
This shared vision lies at the core of the DPC's Strategic Plan, embodied in a new mission statement and supported by four strategic objectives.
Mission
'We enable our members to deliver resilient long-term access to digital content and services, helping them to derive enduring value from digital collections and raising awareness of the attendant strategic, cultural and technological challenges they face. We achieve our aims through advocacy, workforce development, capacity-building and partnership.'
Strategic Objectives
Responding to the changing environment of digital preservation, the DPC will pursue four strategic objectives, to provide:
Competent and responsive workforces ready to address the challenges of digital preservation
A political and institutional climate responsive to the need for digital preservation
Better tools, smarter processes and enhanced capacity in digital preservation
Closer and more productive collaboration within and beyond the Coalition
The Strategic Plan lays out the direction for the DPC over the next three years, but also recognises that it is the very Coalition itself which enables the mission to be followed, and the vision achieved.
For more information about joining the DPC, visit the member page of the website and download the abridged version of the new Strategic Plan 2015 – 2018.
Prestgious International Award to DPC Founding Secretary Neil Beagrie
On the eve of our own awards ceremony in London on Monday DPC is delighted to share news of a major award to the DPC's founding secretary Neil Beagrie
At a ceremony in Hollywood on 23 October 2014, the Society of Motion Picture and Television Engineers® (SMPTE®) awarded the 2014 SMPTE Archival Technology Medal to Neil Beagrie in recognition of his long-term contributions to the research and implementation of strategies and solutions for digital preservation.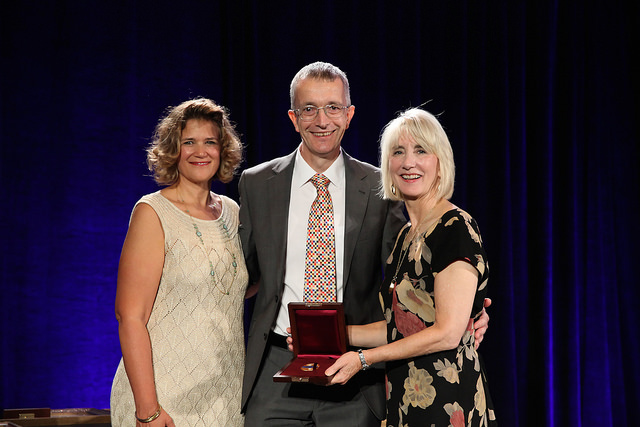 The full citation for the award reads "Mr. Beagrie played a key role in the development of a collaborative approach to the study and dissemination of knowledge relating to Digital Preservation, Research Data Management, Digital Curation and Data Archives.  He was responsible for establishing the Digital Preservation Coalition, with major members from industry, national libraries, broadcasters and archives. In addition, he was responsible for establishing the digital preservation program within Jisc.  This program helped to create the Digital Curation Centre, which seeks to actively manage, preserve, and curate digital data throughout the research lifecycle."
William Kilbride, Executive Director of the Digital Preservation Coalition said: "'I am delighted to hear that Neil's work is being recognised with this well-deserved accolade.  He is highly regarded among colleagues in the UK and internationally for his calm, approachable manner, his clear advice, and the high standards he sets.  These virtues are woven into the fabric of the Digital Preservation Coalition, an organisation which he helped create.  I extend congratulations on behalf of all of the DPC's members and staff, and we are honoured that DPC should be associated with this award."
Rachel Bruce, Deputy Chief Innovation Officer, from Jisc added: "This award is recognition not only of Neil's enormous contribution to digital preservation over the years but also the work he has done to clarify and explain aspects of managing research data. This has focused particularly on economic perspectives with the 'Keeping Research Data Safe' phases of work and more recently with an influential series of reports on the value of data centres. We are delighted that SMPTE has honoured Neil in this way, it is very much deserved, and we are pleased that some of the initiatives that Jisc has established, such as the digital preservation coalition and our research data programmes and services, are acknowledged as globally valuable."
The SMPTE is the worldwide leader in motion-imaging standards and education for the communications, media, entertainment, and technology industries.
The SMPTE Archival Technology medal recognizes significant technical advancements or contributions related to the invention or development of technology, techniques, workflows, or infrastructure for the long-term storage, archive, or preservation of media content essence.
Pervasive, fluid and fragile: digital data is a defining feature of our age. The creative industries, Government, research and education, health, the heritage sector, and private life depend on digital materials to satisfy ubiquitous information needs. Digital preservation is an issue which all organisations and individuals will need to address. The 2014 award can also be viewed as a reflection of:
the growing importance of digital preservation to major industries such as film and television as their content is dominated by digital; and
the profile that digital preservation and research data management in the UK has achieved internationally in the last decade and the impact of the UK Digital Preservation Coalition and Jisc innovation programmes.
Others recognised by the SMPTE at the 2014 Honors & Awards Ceremony included George Lucas and John Logie Baird.
Digital Preservation Awards Ceremony and 4C Conference Keynotes to be Broadcast Online
The ceremony for the Digital Preservation Awards 2014 (17th November 2014) and the keynote addresses from the 4C/DPC 'Investing in Opportunity' Conference (17-18th November 2014) will be broadcast online via the DPC website, so that those unable to attend do not need to miss out.
Viewers from outside and participants inside the conference can also keep abreast with events as they unfold, by using and following the live online note taking facility. Find out more by clicking the links below:
Papers for the 12th Annual General Meeting of the DPC
Papers are now available for the 12th Annual General Meeting of the Digital Preservation Coalition, to be held at 1615 on Monday 17th November in the Dale Room of the Wellcome Collection, Euston Road, London.
Vacancy at the DPC: Head of Research and Practice
Head of Research and Practice
Job type: Permanent, Full Time
Location: Glasgow or York
Salary: £30434- £40847 (initial offer)
Closing Date: 27th November 2014
The Digital Preservation Coalition (DPC) seeks to employ or second a Head of Research and Practice to help deliver its strategic commitment to 'better tools, smarter processes and enhanced capacity in digital preservation'.  The post holder will provide direct support to DPC members, develop and contribute to grant applications and lead on a number of externally-funded research projects, including a new research project on the preservation of transactional data and social media.
This is an exciting opportunity to work in a high-profile and wide-ranging role.  Recruitment will be to the DPC offices in Glasgow or York and is available immediately. This is a permanent post. You will work internationally with the world's leading authorities in digital preservation, developing and communicating first-class research, connecting leaders and professionals from different sectors and disciplines, and helping to influence public policy.  You will bring a portfolio of existing interests and expertise and will have the opportunity to develop these with an exceptional international network of professional contacts and projects.  You will be a motivated researcher with strong communication skills, have experience of problem-solving in information technology and data management. You will have a detailed knowledge of digital preservation, drawing appropriately on practical experience.  You will be able to listen to the needs of others, support them and engage them with the outcomes of cutting edge research. 
4C CCEx deliverable submitted: Understanding and comparing digital curation costs to support smarter investments
The 4C project submitted D3.3, its 'Curation Costs Exchange Framework' deliverable to the European Commission this week.
"To date there have been very few opportunities and, due to trust issues, little willingness for digital curation practitioners to exchange information relating to the cost of curation. The Curation Costs Exchange (CCEx) platform allows users to upload their curation costs and compare them with those of others in a secure, controlled fashion," explains Alex Thirifays of the Danish National Archives who collated the report.
The report, along with the CCEx and the Cost Comparison Tool make up the deliverable (D3.3—Curation Costs Exchange Framework) and address some of these issues of trust and unwillingness, and explains how organisations can use the CCEx to understand and compare digital curation costs to support smarter investments.
"Transparency of digital curation costs will help organisations identify greater efficiencies and pinpoint potential optimisations," Alex continues. "Insight into how and why peers target their investments can lead to better use of resources, help identify weaknesses and drivers in current practices, and inspire innovations. Last but not least, a community such as that facilitated by the CCEx enables members to collaborate more, communicate more, exchange information and experiences and start addressing the taboo subject of sharing financial information."
With volumes of data increasing, and budgets to manage these data unable to keep pace, investments in digital curation must be strategic and targeted to ensure the best value for money. The CCEx is designed to be used by anyone involved in digital curation - practitioners, researchers, users and re-users, managers and financial controllers, member organisations, policy makers and solutions providers, to help achieve this best value.
The report outlines two key challenges which remain for the CCEx: to gather cost data, and to translate these into figures that organisations of all kinds find meaningful and engaging. The meaningfulness of these figures does not just depend on how results are presented, but on how many cost data sets the CCEx is able to attract in order to generate statistically reliable and useable figures. The meaningfulness of the results is the compelling argument for the submission of new cost data sets.
In short, the CCEx needs community support, it needs digital curators, creators, vendors and funders to use it, add to it, take care of it – and above all share their data with it to make it work.
The full version of the CCEx will be launched at the 4C/DPC 'Investing in Opportunity: Policy Practice and Planning for a Sustainable Digital Future' conference on 17 – 18th November at the Wellcome Trust in London, UK and participants will have an opportunity to comment and interact with the tool.
The beta version of the CCEx is now available at: http://www.curationexchange.org
Slides now available for 'Making Progress in Digital Preservation' Event in HSBC London, 31st October
Slides from our first ever 'Making Progress in Digital Preservation' event at HSBC in London on 31st October are now available online. The event was a great success and the 'experimental' format which comprised an examination of next steps addressing issues of technology and tools, resources, cost and organisation, was very well received. Many thanks to our speakers for coming and sharing their experiences with us and to our attendees for some lively discussion.
Page 5 of 31