Newsroom
Recording from DPC 'Technology Bytes' with Martin Springell from Preservica now available
The recording from the latest in our series of DPC 'Technology Bytes: Tools and Services for Digital Preservation in Bite-Sized Chunks' with Martin Springell from Preservica is now available. Members can watch the recording of Martin's presentation in the members area of the DPC website using their login. 
Preserving eBooks: members' preview of new Technology Watch Report
DPC is delighted to give members a preview of its latest Technology Watch Report: Preserving eBook by Amy Kirchhoff and Sheila Morrissey of Portico.
'There are some serious preservation risks associated with the formats in which eBooks are created, explained the authors.  'This is particularly true for proprietary formats, and those tied to a commercial vendor's hardware platform or distribution system.'
This report discusses current developments and issues with which public, national, and higher education libraries, publishers, aggregators, and preservation institutions must contend to ensure long-term access to eBook content. These issues include legal questions about the use, reuse, sharing and preservation of eBook objects; format issues, including the sometimes tight coupling of eBook content with particular hardware platforms; the embedding of digital rights management artefacts in eBook files to restrict access to them; and the diverse business ecosystem of eBook publication, with its associated complexities of communities of use and, ultimately, expectations for preservation.
'We're delighted to add this latest report to the series', said William Kilbride of the DPC, 'and to release it to members first.  Although the report stands up on its own, it has strong connections to other reports in the series especially Preserving eJournals and Web Archiving which were published last year.  In that sense it's the third volume of an informal 'Preserving e-Publications' trilogy.'
The report is available online at: http://www.dpconline.org/publications/technology-watch-reports (login required) and will be released to the public in late June.
DPC and TNA start 2nd edition of the Digital Preservation Handbook
The National Archives is working with the Digital Preservation Coalition Jisc and the British Library to update and revamp a key online resource for managing digital resources over time, The Digital Preservation Handbook. The handbook was first published in 2001 and remains heavily used by archivists and other information professionals. The National Archives and the Digital Preservation Coalition will work with expert partners over the next two years to develop the new look handbook as an interactive online resource.

'I'm delighted to be working with The National Archives on this important project', said William Kilbride of the DPC.  The original handbook remains very popular so we have been loathed to take it down, but we've been aware for a while that it was becoming increasingly out of date.  Our experience shows that there is a real demand for concise and practical advice on preservation so I am confident that this new edition will be immediately popular'

The project to deliver the report is a joint venture between The National Archives, the DPC and Neil Beagrie, one of the original authors of the report, with further contributions from Jisc which was one of the initial co-funders and the British Library who published the original handbook.

'I'm looking forward to starting this important revision', said Neil Beagrie.  'It's not just a few updates to the text: we will be basing the new handbook on an extensive process of consultation to make sure that the new edition measures up to people's real and emerging need and, to make sure that it highlights good practice.  We aim to make sure it binds together other sources of advice (including the many excellent reports in the DPC Technology Watch series) and that it provides authoritative and concise advice for topics that are not supported by other resources.'

The online element will ensure the handbook can be easily updated over time, incorporating case studies and a view from current practitioners to ensure it is relevant to a wide audience, from beginners to those with more specialist needs. Short on theory, long on practical advice, the Guide will help those from a wide range of organisations adopt a step-by-step approach to addressing their digital resource management needs.
Vacancy with the DPC: Project Officer
Wednesday, 07 May 2014 08:10
Project Officer
Salary: Grade 6 or Grade 7, points 25-39 (£26,527- £40,046)
Post type: Full time, 12months
Location: London, Glasgow or York
Closing Date: 21st May
The Digital Preservation Coalition (DPC) seeks to employ or second a Project Officer to help deliver its commitments to a number of research projects, especially the TIMBUS (Timeless Business Processes) Project, an initiative co-funded by the European Commission; and a new research project on the preservation of social media. Applications should be submitted by email not later than 1200 on Wednesday 21st May Shortlisted candidates should be ready to present themselves for interview on Friday, 30th May 2014. This is an exciting opportunity to work in a high-profile and wide-ranging role. Recruitment will be to the DPC offices in London, Glasgow or York and is available immediately for 12 months full time.
You will work internationally with the world's leading authorities in digital preservation, developing and communicating first-class research, connecting leaders and professionals from different sectors and disciplines, and helping to influence public policy. You will have the opportunity to develop an exceptional international portfolio of professional contacts and you will gain experience in the operation of EC-funded research. You will be a motivated researcher with strong communication skills, have experience with new media, knowledge of digital preservation – or with a proven capacity to learn quickly. You will be able to engage others with the outcomes of cutting edge research.
For more details on how to apply see Job Particulars
Tuesday, 06 May 2014 12:06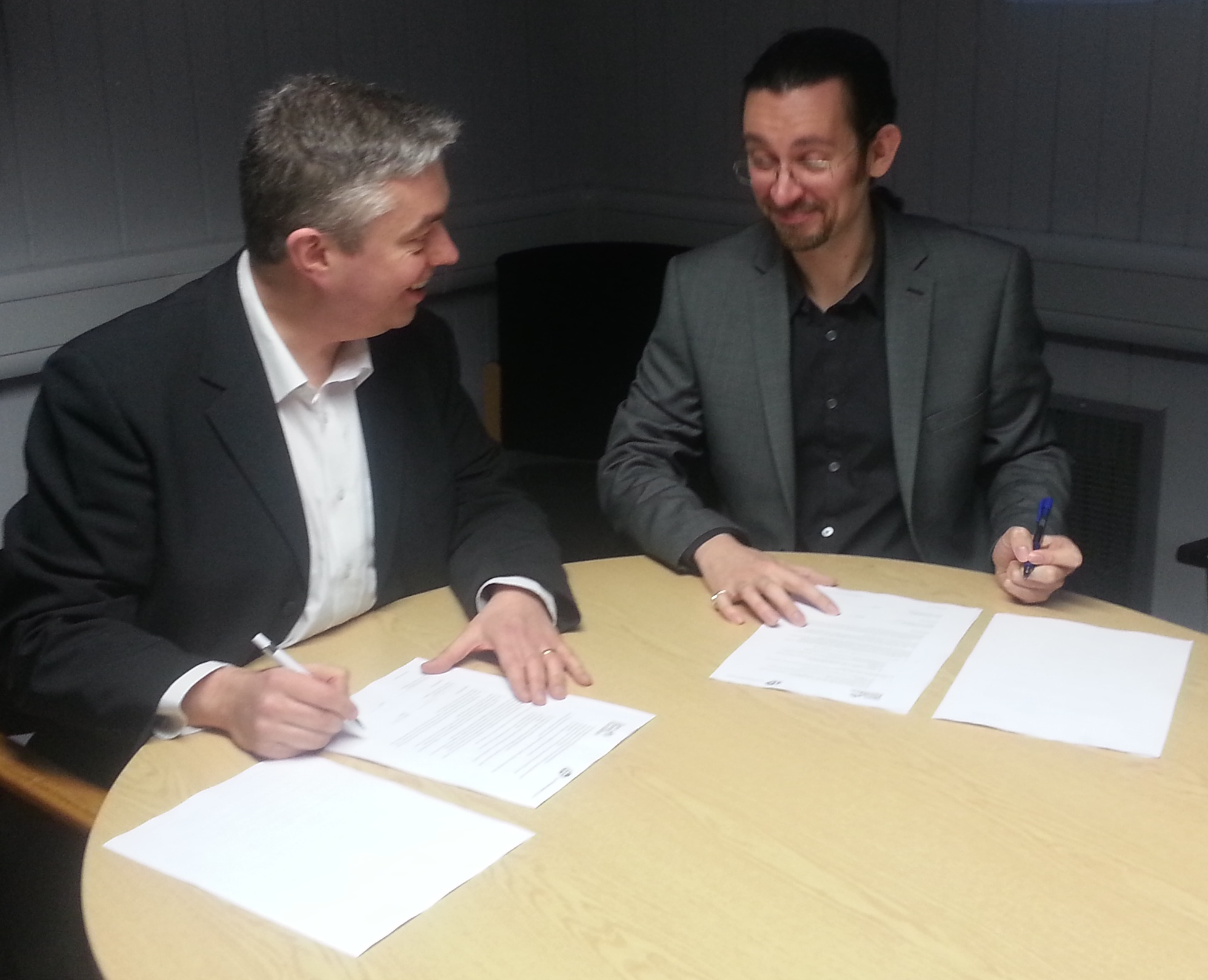 The Open Planets Foundation (OPF) and the Digital Preservation Coalition (DPC) are delighted to announce a new memorandum of understanding that strengthens their ongoing collaboration to tackle digital preservation challenges.
Signed by OPF Executive Director, Ed Fay, and DPC Executive Director, William Kilbride, at the DPC offices in Glasgow, the MoU commits both two organisations to share knowledge and expertise, deliver joint events, and to support the development of tools and best practices.
'The OPF and DPC have worked together on a number of stand-alone activities and events over the past few years', explained Ed Fay. 'And were both partners in the JISC-funded SPRUCE (Sustainable Preservation Using Community Engagement) project. The MoU will help us to better align our activities and offer further value to members from both organisations'.
'Our first official joint initiative is already underway', revealed William Kilbride, 'The DPC has expanded the Digital Preservation Awards to offer five awards this year. The OPF is one of our partners, sponsoring the Research and Innovation award'.
To view the new memorandum see: MoU DPC and OPF
The OPF is an international membership organisation which addresses core digital preservation challenges by engaging with its members and the community to develop practical and sustainable tools and services to ensure long-term access to digital content. For more details see: http://www.openplanetsfoundation.org/
Vacancy with Trinity College Dublin Library: Metadata Cataloguer
Thursday, 01 May 2014 20:26
Metadata Cataloguer
Salary Range: Assistant Librarian Grade II
Post type: Full Time, approximately 12 months (Career Break)
Location: Dublin
Closing Date: 9th May 2014
Applications are invited for the post of Assistant Librarian - Metadata Cataloguer - Digital Resources & Imaging Services (DRIS) at the Trinity College Library Dublin. The successful candidate will join the Digital Resources & Imaging Services team and be responsible for all activities relating to the creation of metadata for the output of DRIS (original and complex copy) and its input into all associated repositories (internal and external) with a primary focus on the Trinity College Library Digital Collections Repository (http://digitalcollections.tcd.ie).
For more information see: http://jobs.tcd.ie

What's New - Issue 56, April 2014
In this issue:
What's New is a joint publication of the DPC and DCC
Wednesday, 30 April 2014 00:00
Systems Developer
Salary Range: £31521.05 - £36992.94 per annum
Post type: Full Time, Fixed-Term for 2 Years
Location: Glasgow
Closing Date: 11th May 2014
This is the key post in the development and delivery of the Kelvin Hall Online Portal that represents the state of the art in cross collection searching and content delivery. The post-holder will design, develop, implement and evaluate a Portal that will provide public access to the collections of Glasgow Museums, The Hunterian and the Scottish Screen Archive. Duties include designing and developing databases, websites and web-based services conforming to a very high standard of accessibility, including optimisation for mobile devices, and documentation. This post will help progress the project partners' reputations as world-class providers of innovative online access to cultural heritage resources and services.
For more information see: http://bit.ly/1kbqHZv
Monday, 28 April 2014 09:07
Registration is now open for the next in the series of the DPC's 'Technology Bytes: Tools and Services for Digital Preservation in Bite-Sized Chunks' Series. The fourth session, which will be brought to us by Martin Springell from Tessella / Preservica, will take place on Wednesday 7th May at 1300.
Following the success of our hugely popular event 'Procuring Preservation: Writing and Understanding Requirements in Digital Preservation' in December 2013, the Digital Preservation Coalition (DPC) is pleased to invite members only to this webinar series where vendors and tool developers will present the tools they currently support and their plans for the future.
Individually, each webinar will privilege members with a deep dive into the latest tools and an insight into technology trends. They will help members assess the strengths of products available, how these might be best applied to digital preservation in practice, as well as providing a platform for members to cross-question developers. Collectively the series will ensure that DPC members have a comprehensive catalogue of the digital preservation market place, shortening the routes to procurement of digital preservation services and matching product development to their needs.
Places are limited and registration is essential, for members-only. For more details and to register, see:
http://www.dpconline.org/events/details/76-procuring-preservation-vendor-webinar-series?xref=86%3ATessella
Page 5 of 28