Newsroom
Three Vacancies at the British Library (Sound Archive): Project Manager; Metadata Manager and Project Officer
Project Manager
Location: London
Contract Type: Full Time / 3 years
Salary: c47.5K GBP plus benefits
Closing Date: 5th December
Metadata Manager
Location: London
Contract Type: Full Time / 3 years
Salary: C38K GBP plus benefits
Closing Date: 5th December
Project Support Officer (part-time)
Location: London
Contract Type: Part Time (23hrs per week) / 3 years
Salary: C 25K GBP plus benefits (pro rata)
Closing Date: 5th December
Europeana Sounds is a new EC-funded project, to run from 2014-2017, which will greatly improve the discovery of and access to Europe's rich digital sound and music collections, by enriching metadata and by doubling the number of sounds and audio-related digital items on the Europeana web portal. The project will build a sustainable best practice network including the 24 funded project partner institutions from 12 EU member states.
The Project Manager will be based at the British Library's London offices from February 2014, to manage the project and coordinate the members of the consortium. The successful candidate will have strong project management experience, good leadership and people management skills, employment experience in a library, academic or similar environment, and extensive experience of working in collaborative, multinational projects for delivering major programmes of work within strict timetables. Knowledge of audio archives, and experience of licensing for cultural heritage items, a second European language, and of EC FP7 or ICT project regulations will be advantageous.
The Metadata Manager will be based at the British Library's London offices from February 2014 as part of the project team. The main task in this role is the management of one of the key project work packages: ensuring aggregation, to a common standard and from 17 partner institutions across Europe, of a target of 0.75 million metadata records for sound and related audio content, including those from the British Library's own collections. The successful candidate will have extensive experience of working in large–scale projects, a strong background in metadata standards and working with structured data, and experience with copyright and licensing of digital assets. Experience of managing projects and of international programme working, knowledge of a second European language and of recorded sound, and familiarity with the Europeana Data Model will be advantageous.
The Project Support Officer will be based at the British Library's London offices from February 2014 as part of the project team. The main tasks in this role are to provide administrative support for the internal project team in its management of the project and the multinational consortium, to draft reports and presentations as required, to communicate with all project partners in collating financial and reporting information on a regular basis, and to assist in organising internal and external project meetings. The successful candidate will have excellent administrative, communication and time management skills, broad experience in using desktop computer applications in support of projects, and experience in managing project budgets.
For more information on all three posts see: https://gs10.globalsuccessor.com/fe/tpl_britishlibrary01.asp?newms=sr
Monday, 25 November 2013 00:00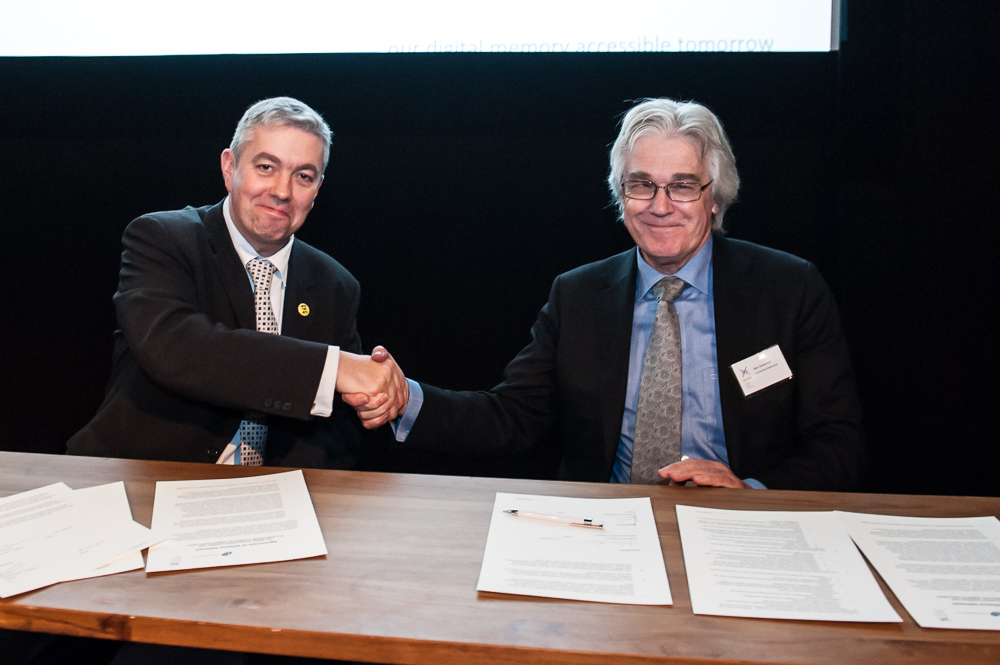 At a ceremony in Amsterdam this month, the Digital Preservation Coalition (DPC) and the Dutch Coalition for Digital Preservation (NCDD), joined forces to help agencies in the UK, Ireland and the Netherlands address the complex challenge of making sure our collected digital memory can be accessed into the future.
'Although we depend on them for so much of our daily routine, digital objects can be fragile' explained William Kilbride of the DPC.  'They are so ubiquitous that it's easy to treat them as treat them as disposable.  But the reality is that many of these resources are going to be valuable in the future too and we are poorly prepared to ensure long term access. Identifying those items which will be important, and securing items sounds like a simple question: but in practice it involves a many different types of expertise and different types of agency too.'
'NCDD is a coalition of leading institutions in the Netherlands, with the goal of encouraging knowledge exchange and co-operation in of digital preservation,' explained Marcel Ras, of NCDD. 'We've always understood that collaboration is important for digital preservation, and because it is an international challenge it makes sense to work with partners around the world.  DPC has had an impressive impact on digital preservation in the UK and Ireland so we're delighted that we'll be working more closely with them in the future.'
'Our organisations have collaborated in a variety of practical ways in the past but up till now this has tended to be on an ad hoc basis.' explained William Kilbride  'Our real strengths are our members.  This new alliance is designed so that our members can work more closely together and on a regular basis.'
Registration Opens for 'Sustainability: Securing the Value of Digital Assets ', The Hague, 10th-11th Dec
Introduction
The APARSEN project is delighted to announce that registration has opened for our latest training event, organised by DANS and focusing on issues relating to sustainability and digital preservation.
Society is generating a vast amount of digitally encoded information, upon which it depends. Some of this will be needed for a long time. Those who have responsibility for preservation may well have asked themselves the following:
How can I justify the resources needed for digital preservation?
How long must the resources be committed?
How can I estimate the resources needed and how can I keep these to a minimum?
How can I plan to cope as the volume increases over time?
The APARSEN project has been working to collect, evaluate and develop key answers to these questions. This two day training event, from the APARSEN project, will focus on the topic of "Sustainability" in relation to the preservation of digital objects and will present some of these answers. The training aims at presenting state of the art developments in relation to four key sustainable preservation practices. These are:
The infrastructural dimension through the analysis of suitable storage solutions that help enable reliable permanent access
The operational dimension through the identification, evaluation and proposal of competitive Digital Preservation Services
The monitoring and performance management of DP activities through cost models and their components
The underlying business dimension of digital preservation sustainability by means of modern management approaches and instruments such as value propositions, business cases and business modelling
The training will be offered as a mix of expert presentations, group exercises and discussion. The DPC will be meeting the cost of course fees for it's members and pariticpants should select the 'APARSEN or APA member' option when registering. Registration is now open via the APARSEN website: http://bit.ly/1aCaME3

This training event is generously subsidised through the APARSEN project by the European Community's 7th Framework Programme for Research and Development FP7/2007-2013 – ICT-2009.4.1: Digital Libraries and Digital Preservation (grant agreement No 269977).
Slides now available for 'Getting Started in Digital Preservation' Dublin
Slides from our 'Getting Started in Digital Preservation' event in Dublin are now available online. It was fantastic to see such a huge turnout, the largest in DPC history, so a huge thank you to all who came and made the day such a great success. Big thanks especially to our hosts at the Royal Irish Academy, and to all our speakers for providing such a comprehensive introduction to the subject of digital preservation.
This year's roadshow has been even more popular than the last, with each of the stops selling out well ahead of time. We have one last stop at The National Archives at Kew Gardens in December this year, but we'll be back in 2014 with more events. Check out our prospectus for a full run down of all other events, and watch this space for details... 
Vacancy at National Library of Scotland: Digitisation Programme Coordinator
Digitisation Programme Coordinator
Position type: Permanaent Full Time
Location: Edinburgh
Salary: £27,420-£31,788 (Subject to change pending a pay and grading review)
Closing Date: 6th December 2013
The National Library of Scotland is seeking applicants for the role of Digitisation Programme Coordinator.
This is an exciting opportunity to be involved in opening up the internationally renowned collections of the National Library of Scotland to the world.  As Digitisation Programme Coordinator you will lead the Library's digitisation strategy and take responsibility for the management and delivery of our digitisation programme.   You will coordinate a team dedicated to making the Library's collections open and accessible to the people of Scotland and the rest of the world, and develop innovative new approaches to digitising our collections for online access.   You will have experience of managing digitisation programmes, good knowledge of technical environment for digitisation, and understand the practice and benefits of digitisation of cultural material.
Brief description of role:
To lead and coordinate the digitisation of the library's print and non-digital media to expand the collections, enhance access, and deliver digital content in accordance with the agreed strategy;
To provide knowledge, advice, and training in the library's digitisation functions;
To support the Digital Assets Manager ensuring standards and procedures are consistently applied;
To contribute to the development of strategies, policies and procedures for the Digital Assets Team;
To work within the corporate framework and in collaboration with other colleagues to help deliver organisational goals.
For more details see: http://www.nls.engageats.co.uk/Welcome.aspx
AGM of the DPC, 5th December 2013, Edinburgh
DPC members are cordially invited to the Coalition's Annual General Meeting 2013. This will start at 1500 at The National Records of Scotland, H M General Register House, 2 Princes Street, Edinburgh, EH1 3YY Scotland. Tea and coffee will be available from 1445.  Any person associated with any member organisation is welcome, as are all personal members. Note however that each member organisation has only one vote which is cast corporately. Personal members attend as observers.
The Agenda for the meeting is as follows.
1445 Tea/coffee available (associate members arrive)
1500 AGM Starts.
1.            Welcome (Kevin Ashley)
2.            Introduction and formal notice of meeting
3.            Apologies
4.            Minutes of the Tenth AGM, held on Monday 3rd December 2012, London (DPCAGM1312B)
5.            2012-3 Annual Report of the DPC (William Kilbride – Verbal Report)
                a.            DPC Core Programme 2012-13
                b.            Major Projects 2012-13
6.            The 2012-13 Annual Accounts of the DPC (Jackie Senior, G&E) (DPCAGM1312C)
7.            Election of Chair and Vice-Chair of the DPC
                a.            Laura Mitchell (NRS) nominated for election as chair
                b.            Kevin Ashley (DCC) nominated for re-election as vice chair
8.            4C - the Collaboration to Clarify the Costs of Curation (Sarah Norris)
9.            Any other business
By 1600 close
Papers will be circulated to all members before the meeting. Members attending in person are asked to contact This e-mail address is being protected from spambots. You need JavaScript enabled to view it to confirm attendance. Members wishing to send delegates or proxies are invited to do so, and proxy nomination forms are available. In the event that members seek to attend by teleconference please let us know. We are currently investigating the feasibility of this.

Vacancy at Royal Museums Greenwich: Records Manager
Records Manager
Position Type: Full Time
Salary: £30,000 - £37,000
Location: London
Closing date: 25 November 2013
With significant experience of working with EDRM systems, you're now looking to take your career forward in a bigger role. So bring your skills to Royal Museums Greenwich, a world-renowned heritage organization comprising three historic museums and the Cutty Sark set in a UNESCO World Heritage Site, attracting around 2.3 million visitors each year.
This is a unique opportunity for you to develop, promote and manage the use of our EDRM system throughout the Museum. A key element of your role will be to co-ordinate the transition to a new system. In addition, you'll devise and implement digital preservation strategies and act as an internal consultant on all aspects of records management.
Strong communication and influencing skills are absolutely essential here, as you will need to win buy-in from colleagues, convince them of the importance of good record keeping and provide training. Knowledge of current trends in digital preservation is vital, together with an understanding of current FOIA and DPA legislation. We are looking for a candidate with proven team leadership and projects management skills. A relevant postgraduate qualification would be welcomed too.
For a full job description and details of how to apply, please visit www.rmg.co.uk/jobs 
Registration Opens for 'Procuring Preservation', London 13th Dec
The Digital Preservation Coalition is delighted to invite members to a briefing day will explore themes related to procuring and implementing digital preservation solutions, especially where that involves establishing and describing requirements for  developers, programmers and vendors, London 13th December.
Digital preservation typically involves a wide range of skills and it's unusual to find all the necessary skills in one person.  Even larger organisations find it necessary to employ consultants to help them develop or deploy solutions.  A new market of digital preservation tools and services is emerging into which a series of companies and not-for-profit agencies are now supplying products.  The market could be characterised as a meeting between 'problem owners' and 'solution providers'.  But in an emerging field with rapidly changing technology and unclear requirements it can be hard for the right problem owner to find with the right solution provider. This problem is exacerbated in two ways: firstly collection owners typically have limited practical experience of specifying their requirements which makes it hard – if not impossible – for developers to understand and meet their needs; secondly procurement managers – already struggling with significant budget pressures - find it hard to assess statements about the quality of solutions proposed.  This can add delay and confusion to a process which is already complicated.  It means that even organisations which properly understand their digital preservation needs can be frustrated in solving them, while solution providers have to meet impractical and at times nonsensical expectations.
This day-long briefing is intended to provider a neutral forum where solution providers and problem owners can talk directly and without prejudice about the challenges they face.   The dialogue that results should clarify the process of requirements-gathering and lower the barriers to effective procurement.
For more details including an outline programme to register see:
http://www.dpconline.org/events/details/72-ProcuringDP?xref=78
Slides now available from 'Preservation, Trust and Continuing Access to e-Journals'
Slides from our 'Preservation, trust and Continuing Access to e-Journals' briefing day at the RIBA headquarters on 30th October, are now available online.  Recordings of each of the speaker sessions will be made available to members online shortly.
A huge thank you to our speakers for coming to talk to us from far and wide, providing a comprehensive update on the latest developments in this area. Thank you also to our attendees for some engaging discussion and debate, and making the day a resounding success.
Vacancy at Digital Repository of Ireland: Post Doctoral Research in Linked Data
Postdoctoral Researcher, Linked Data
Position Type: Full Time to 31st August 2015
Salary: 33,975e to 46,255e
Location: Digital Repository of Ireland, Royal Irish Academy, Dublin, Ireland and INSIGHT@NUI Galway (formerly DERI, the Digital Enterprise Research Institute), Galway, Ireland
Deadline: 5pm GMT Friday Nov 8, 2013
The National University of Ireland, Galway and the Royal Irish Academy are seeking applications from suitably qualified candidates for a post-doctoral research position in the linked data domain. This is an exciting full time position in Linked Data applications in the media and cultural domains. The successful candidate will work in a lively atmosphere with an energetic, multidisciplinary team of researchers working at the forefront of semantic web, digital humanities and digital preservation technologies. The candidate will also collaborate with national broadcasting institutions and key cultural institutions.
Page 1 of 21